Fleshlight Flight pilot masturbator is a more discreet and portable version of the more classic Fleshlight toys.
In this Fleshlight Flight review you'll learn that while you can use your Fleshlight Flight Pilot at home (like I do), this masturbator was specifically designed for those who travel or who seek an extra layer of discretion when storing it.
With this ambitious goal in mind, Fleshlight has worked on a compact and sleek design, easy to carry and discreet at sight. The external aerodynamic case has therefore been joined by a transparent orifice above suspicion.
The orifice of the Fleshlight Flight Pilot masturbator is in fact a "pure" one, which means it doesn't resemble a vagina, a butt or a mouth, but it's instead a pure circle, making the Fleshlight Flight one of the most discreet masturbators in the whole Fleshlight collection.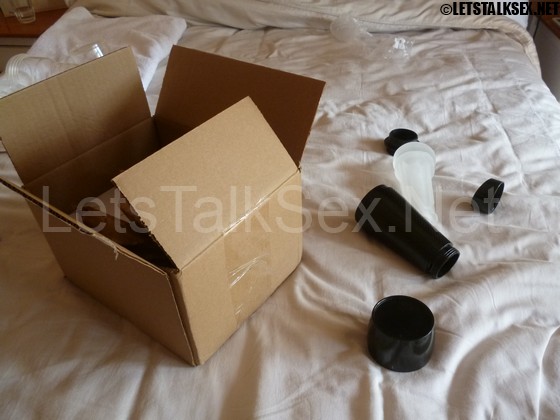 Fleshlight Pilot in My Personal Experience
My Fleshlight Flight Pilot was delivered in a completely anonymous box, totally plain and blank. All you can read is: your name, the name of the sender: "ILF, LLC" (the company behind Fleshlight) and under "description of the content" it says: "rubber molds", that's it.
Contrarily to other Fleshlight I have tried in the past, my Fleshlight Flight came already mounted, which was quite handy.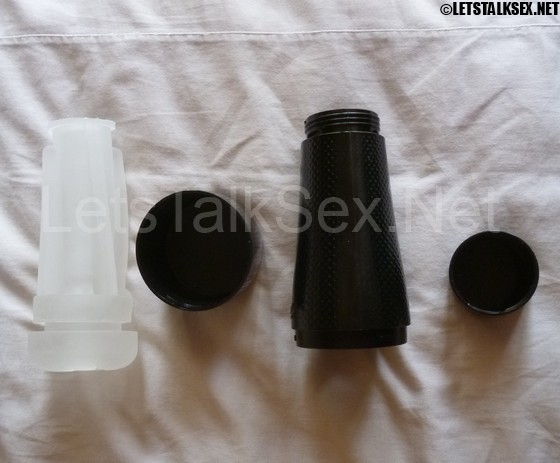 How Compact is Fleshlight Flight?
Fleshlight has been working on a compact design, but of course this soon presented a big challenge: how compact can you actually go without losing that "magical" Fleshlight feel?
The answer lies in two inches.
If we compare the Flight with any of the normal size Fleshlight, like the Fleshlight ICE for example, we can measure a 2 in difference in total length, with the ICE being 10 in long and the Fleshlight Flight only 8 in.
Eight inches outside length and six inches inside length has been the solid compromise reached when designing the Fleshlight Flight (both Fleshlight Pilot, Commander and Aviator).
Today, the shorter length of the Flight together with a lighter weight contributes to make this model one of the best Fleshlight and surely one of the most portable male sex toys on the market and the perfect obedient girlfriend for your travels.
When I used a normal Fleshlight for the first time (like this Fleshlight ICE for example) I had the impression it was way too big, when I saw the Fleshlight Flight instead I liked it straight away. Its size seems more reasonable and easier to hide in your house or suitcase when you need to.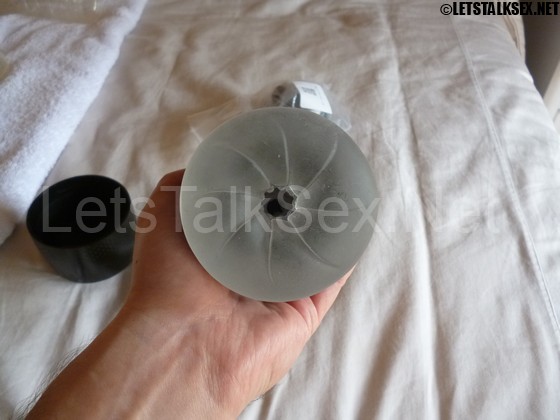 Preparing Fleshlight Flight for The First Test
As said my Flight came already mounted, which is handy from a point of view, but a tad unpractical since anyway you need to remove the sleeve in order to warm it up.
So I removed the sleeve from the case (if you have never done it yet, be reassured it's the most straightforward thing in the world) I got a bowl and filled it up with some hot water.
I let the sleeve warm up in the bowl (those moments are the most exciting because you know you're about to penetrate an incredibly realistic pocket pussy soon…) for about 5 minutes.
Then I inserted the sleeve inside my Fleshlight Flight, poured some Fleshlube in it (a sample came with my package – any lube for Fleshlight will do) and that's it. I was ready to go.
How Fleshlight Flight Feels Like
In order to give you a better idea of how the Flight feels like, I'm going to trying it on again right now while I write this review, which will also give me another excuse to use it and have some fun.
Ok I'm literally holding the flight in one hand and am typing with other hand right now…
Here are my sensations as they come…
My glans barely touches the front part of the orifice, it feels warm, soft and smooth… The very top of my glans slides inside the sleeve, oh yeah, it already feels cozy and moist just like a real pussy… I slide a little more inside… It feels narrower now, very tight… It really grabs my penis like a mouth would during oral sex… After the first tight space I feel an opening wider area that makes me slide suddenly faster… I can really feel the warmth through my whole penis from top to base… When I thrust hard my glans gets wrapped in a tight sucking feeling on the way out… I'm all the way inside now… As I release I can hear the sound of suction and the Fleshlight Flight almost grabbing my penis to not let it go… I feel again the change in width also on the way back… The feeling is like a sensual penis massage and very exciting… Overall the sensation is very tight almost like having sex with a virgin, but I'd say it actually feels more like tight oral sex…
I'm going to loosen up the cap now and try with less suction.
It feels very different… My penis slides in more easily and the massage is more delicate, but the added speed of this suction makes it feel like fast thrusting sex… Both with tight and loose suction cap, I can hear a slight suction noise while thrusting… 12 minutes have past the sleeve is still very warm… I'm pretty impressed by that… now it's pure pleasure…
Ok, so that was a live commentary of my experience with Fleshlight Flight. After you're done with it, you can easily wash it by rinsing the internal sleeve and the case in your sink.
Then, simply leave the sleeve to dry in a ventilated area and that's it.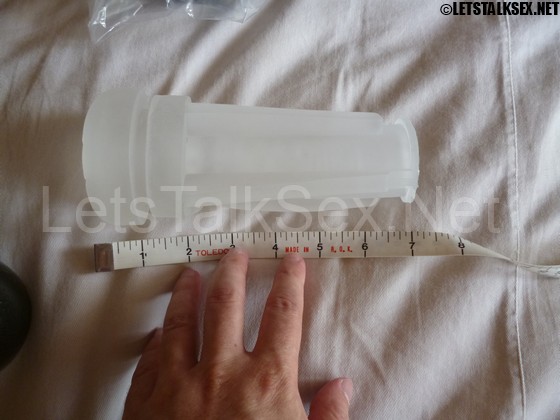 Flight Pilot VS Flight Commander VS Flight Aviator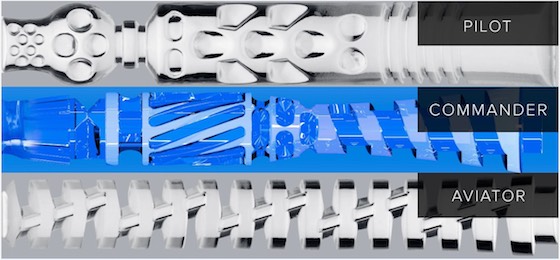 The Fleshlight Flight comes in three different colors and textures, to give that variety that every man needs. It comes in white, black and blue, but the ordinary difference in its external color is just the tip of the iceberg.
The real difference between the Flight Pilot, the Flight Commander and the Aviator lies inside them, in the textures of their inner sleeves.
Each of these textures gives you different sensations to play with and serve different purposes. Trying them in combination gives the richest sexual experience in your solo sessions.
Fleshlight Flight Pilot gives you very intense and variegated sensations, sliding through a series of soft bumps, delicate fingers and smooth ribs. The width of the Pilot sleeve changes along the way, taking you on an unexpected wild ride.
Fleshlight Flight Aviator gives you the most realistic feeling among the three, makes her a great substitute for the Fleshlight STU or the Fleshlight Original.
Fleshlight Flight Commander, looking similar to the Fleshlight Turbo, features a stronger suction than Pilot and Aviator.
What Do You Get with Fleshlight Flight?
Together with the discreet, light and compact Fleshlight Flight – whether you choose the Pilot, Commander or Aviator – you get a sample of Fleshlube and of course instructions for use and care.
The aerodynamic design that distinguish the Flight, together with its smaller size, lighter weight and discreet orifice makes it the perfect companion for trips and coffee breaks.
Fleshlight has been producing these masturbators for many years now and they are evolving in a direction that makes sexual pleasure portable and obtainable on command, whenever and wherever you are and the Fleshlight Flight is perfectly aligned with this direction.
Both Flight Pilot, Commander and Aviator are easy to store and hide. They are easy to carry and clean which helps making them very popular.
How to Choose Between Fleshlight Flights
If you are deciding between the three Fleshlight Flights, valuate your priorities to make up your mind:
Do you own other Fleshlight and are looking for new and strong sensations to take with you? Are you keen to try an intense sexual ride and strong orgasms wherever you are?
If that's your case, you might want to go for the Fleshlight Pilot, whose texture is more focused on intensity and wilderness.
Fleshlight Flight Pilot – Intensity
Fleshlight Flight Commander – Suction
Fleshlight Flight Aviator – Realism
If instead you plan on using the Flight more as a partner to develop stamina and training yourself to last longer in bed and can't carry your Fleshlight Stamina Training Unit with you, then the Aviator might be your best bet. The ribbons composing the Fleshlight Aviator work similarly to the ones of the Stamina Training Unit and can easily substitute it when you are on the go and need a more portable training unit.
If you want to try the wild suction of the Fleshlight Turbo but in a smaller package, then buy the Commander.
Regardless of which Fleshlight Flight you buy, if you were looking for a discreet pleasure partner for your travels, you've just found it today.
What Is A Fleshlight Flight?
Flight is a series of male masturbators from the well-loved Fleshlight brand.
Designed to be more compact and travel-friendly versions of the traditional Fleshlight, the Flight lineup consists of the Flight Aviator, Flight Pilot, and Flight Commander, all of which are designed to provide men with an unrivaled masturbation experience.
Other than being a bit smaller and more portable than traditional Fleshlights, the Flight series' sleeves also have a unique see-through design, which can also make your experience that much spicier.
Each sleeve from the Flight lineup features a unique pattern of internal ridges, bumps, and chambers, which brings us to our next topic:
What does a Fleshlight Flight feel like?
Because the Pilot, Aviator, and Commander all feature different internal textures, each one will feel a bit different.
So you'll really need to try them out for yourself to find out what they feel like.
But if you've ever stuck your dick anywhere warm, wet, and tight, (think vagina, mouth, asshole) then you should already be able to imagine what a Fleshlight Flight will feel like.
While each model has a different sleeve, each is explicitly designed to make your penis feel good in all sorts of unique, and unimaginable ways.
Does a Fleshlight Flight masturbator feel like a real vagina?
Fleshlight Flight sleeves are made from a soft, spongy material called SuperSkin. SuperSkin is a patented material, designed to feel about as close to human skin as possible.
So yes, the Fleshlight Flight will feel "like" a vagina.
The external orifice and inner texture are meant to be soft and slippery against your penis, just like when you're inside a real vagina.
However, you'll need to close your eyes and use your imagination. Because Flight models aren't designed to look like vaginas.
All Fleshlight Flight models have a completely non-discrete orifice, which looks nothing like a vagina or butthole at all.
On another note, warming up your Flight sleeve can help make your experience feel closer to having sex with a real vagina. But sadly, using a Fleshlight will never rival the sexiness of having sex with an actual woman.
Is The Fleshlight Flight Pilot A Good Male Sex Toy?
Yes, the Fleshlight Flight Pilot is a good male sex toy.
Fleshlight is truly one of the best, and most innovative brands when it comes to high-quality male sex toys and fun accessories.
So whether you choose a Fleshlight Flight or any other Fleshlight from the Flight lineup, you're in for a real treat!
Plus, Fleshlight has a wide range of Fleshlight models and accessories, ranging from the compact and portable Flight lineup to the company's extra sexy lineup of Fleshlight Girls, all with holes molded after the mouths, vaginas, and assholes of real pornstars!
Is Fleshlight Flight Pilot a good starter sex toy for men?
I'd have to say, yes, Fleshlight Flight Pilot is a good starter sex toy for a few good reasons.
First off, the Flight Pilot, and the other two Flight models, are a bit cheaper than many other Fleshlights. All Fleshlights from the Flight lineup cost just over $50, whereas classic Fleshlights cost closer to $70, and Fleshlight Girls cost even more!
Secondly, the Flight Pilot is also a bit smaller than other Fleshlights, which does make it easier to store and keep hidden.
So if affordability and discretion are your ideas of a good starter toy, then the Flight Pilot is definitely for you.
But the Flight is not just limited to being a good starter toy, it's also a great addition to any male sex toy collection!
Is buying a Fleshlight Flight worth the cost?
We truly believe that all Fleshlights are worth it.
So if you're looking for a good quality male masturbator, that's both more compact and more affordable than other Fleshlights, then yes, absolutely, buying a Fleshlight Flight is worth the cost.
The Flight lineup is great for any man, woman, or couple looking to spice things up in the bedroom.
However, if you don't feel like the Fleshlight Flight is worth the cost, you'll be glad to know there are plenty of cheap Fleshlights that are just as sexy, and guaranteed to help you improve your masturbation routine.
Is Fleshlight Flight better than a classic Fleshlight?
Yes and no. In some ways, yes, the Flight series is better than a classic Fleshlight. All Fleshlight are high-quality sex toys.
But it really depends on what you're looking for.
So, for example, since Fleshlight Flight models are both cheaper, and smaller than classic Fleshlights, if price and size are your concern, then Flight is the better option.
However, if your idea of a good Fleshlight is for it to look as real as possible, then a classic Fleshlight is probably going to suit you better.
How To Clean The Flight Pilot Sleeve
Cleaning sex toys is an important part of maintaining safe sex practices, placing hygiene as a top priority, and keeping your sex toys in good condition.
Fortunately, cleaning your Fleshlight Flight Pilot sleeve is about as easy as rinsing it out under warm water, and scrubbing it gently with a bit of mild antibacterial soap.
After you've washed it, you'll want to leave it out to air dry before storing it in a cool, dry place.
The most important thing to remember here is that you never want to close your Fleshlight and store it away if it's still wet on the inside.
Storing it wet, or even just putting it away with your cum still in it, can cause bacteria to propagate.
This can lead to bad smells, and it's even possible for mold and mildew to form, which is something that you NEVER want to see inside your sex toy.
How do I maintain my Fleshlight Flight's sleeve?
Cleaning and storing your Fleshlight Flight are the most important parts of maintaining your toy.
However, over time and with regular usage, the incredibly soft sleeve of your Fleshlight product might lose a bit of its original texture.
With most other Fleshlight sleeves, the company recommends using their Renewing Powder to help maintain the original texture.
But you don't want to use the Renewing Powder on your Flight sleeve!
If you have a clear sleeve, whether a Flight Pilot, Commander, Aviator, or even an Ice model, applying the Renewing Powder might impact its transparency, which can ruin the fun if the see-through part is what you like.
Note that the Aviator or Commander models are the only ones that come with a transparent case. So if you have a Flight Pilot, using the Renewing Powder won't affect your experience as much.
But it can still make the sleeve less see-through.
So avoid it anyway.
Where Can I Buy A Fleshlight Flight?
There are many online retailers that carry Fleshlights and Fleshlight accessories.
Some of the most reputable retailers include:
Adam & Eve – This online retailer has been around for more than 50 years, and has a wide range of Fleshlight products and accessories for sale.
Lovehoney – As another popular online marketplace for sex toys, Lovehoney is a trusted and reliable place to shop for Fleshlights and Fleshlight accessories.
Fleshlight – While you may be able to find Fleshlight Flights for sale from other online retailers, we mostly recommend buying directly from Fleshlight's website.
Buying from Fleshlight ensures that you'll be getting an authentic product, and it's also the easiest way to browse all the different Fleshlight and Fleshlight accessories they have available.
Alternatively, you might also find Fleshlight products for sale on websites like Amazon or Ebay.
There's really nothing wrong with buying from these sites.
But if you choose to shop for your Fleshlight Flight on Amazon, make sure to check customer reviews, read shipping and return policies, and compare prices before you buy.