I did expect the Fleshlight Ice Lady to be transparent but… I was not prepared for the rest. It turned out that voyeurism isn't the main benefit of the clear Fleshlight Ice.
So what was it?
With no doubt whatsoever, the number one reason to buy the see through Fleshlight is the way this male masturbator feels, the suction… Oh man this thing is addictive. Just thinking about it makes me want to quit writing this Fleshlight Ice review right now and go have some fun with her…
But let's go one step at a time.
Fleshlight Ice Crystal Delivered to My House
Fleshlight Ice was delivered together with Fleshlight Flight and V-Stroker Adaptor in a box that was so plain, boring and anonymous that for a moment I really had no idea what it contained.
On the package, look for the sender, it says in a tiny font: ILF, LLC which is the name of the company behind Fleshlight.
Anonymous delivery is a common practice nowadays, and all sex toys we have ever reviewed here were delivered anonymously, but I know that if you have never bought a sex toy online, or if you have never bought a Fleshlight yet, this is something important for you to know.
So yes, let me reassure you, Fleshlight's packages are totally plain and discreet.
Ice Fleshlight First Impressions
Fleshlight Ice came dismounted in two easy parts: case and sleeve. The case looks huge, I also say it in the video, I think that even John Holmes could masturbate with this sex toy.
Completely transparent with nice lead on the wider end and featuring a killer suction cap at the bottom part, the Ice case is around 9-10 in long. I don't know how long your penis is, but I'm pretty sure it'll fit in there.
To be honest at the beginning I did think that Fleshlight Ice was too big, but then when you try her, you realize she's not. The length actually gives you more thrusting options, comfort, and it definitely works.
I have said this once before and let me say it again, the guy who invented Fleshlight should win the nobel prize for masturbation.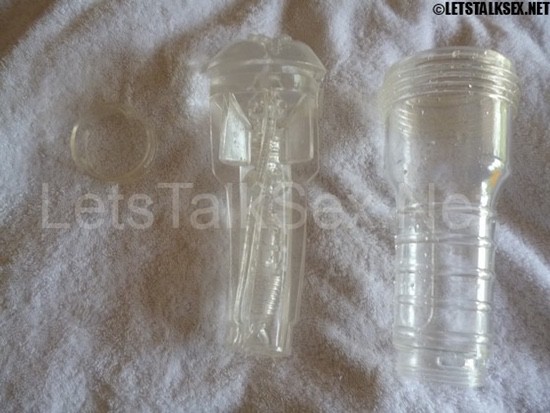 Fleshlight Crystal Sleeve in Detail
Fleshlight Ice comes with the Crystal textured sleeve which besides feeling awesome (I'm warning you again: this pocket pussy is addictive, she feels just too good – especially in suction mode… hmmm) looks great too.
I had a Lady orifice and even though at the beginning I didn't plan to play with her… When you add the lube and spread it on these soft, warm and moist labia your animal instinct comes out and you can't stop touching her.
When you touch the Ice Crystal sleeve for the first time it feels pretty sticky instead. I don't know why and I don't know if this feature is the secret of her suction power, or if it's due to the material used to create that see through look.
As soon as you warm her up and lube her up, the stickiness disappears and you simply enjoy incredible stimulation throughout the whole length of your penis.
Ice Lady Fleshlight is Ready to Work For Me
I got a bowl, I filled it up with some hot water and threw the Crystal sleeve inside it. After 5 minutes I picked her up, I inserted her into the case (which is pretty straightforward really, you just need to put her in) and then added some of the free sample Fleshlube inside her.
Don't be stingy with the lube, just pour it inside, on the labia and even on your penis which should be erect at this stage.
When I entered Fleshlight Ice the first time, the very first thing I felt was the warmth of the sleeve… hmm… yeah…
Then as I moved in I felt my whole penis massaged all over the place with different sensual textures and the pleasure was so intense that it started moving from my genital area throughout my spine and I was getting goose bumps from the intensity of that warm sucking feeling.
I'll be honest with you, I didn't really understand what was going on in there.
Folks at Fleshlight like to describe each Fleshlight sleeve in detail section by section, and I guess you get to that level once you are familiar with the toy, but the first time I tried it I wasn't really able to distinguish anything at all.
The pleasure is very intense and you'll just want to focus on enjoying that sensation and make it last as long as you can.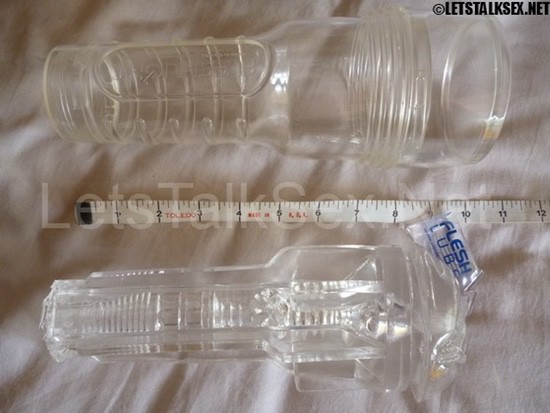 Fleshlight Ice Lady's Suction
I haven't told you the best part yet.
That tiny little suction cap at the smaller end of the Fleshlight Ice makes a huge difference in the way you feel her on your penis.
If you rotate and tighten up the cap, you really feel your penis sucked while your stroke it with your Fleshlight. The sensation is intense, and so the noise though. If you share a house with family or friends you may want to keep the tight suction for when you are by yourself (or maybe just play some loud music to cover the noise).
If you loosen up the end cap instead, the Fleshlight Ice slides in more smoothly which is also a very pleasurable and intense sensation (and much more quiet too). A combination of both tight and loose suction is what "works" best for me.
One weird thing about Fleshlight Ice is the zoom effect it has on your penis. There must be some light distortion going on through the transparency because your penis looks bigger, longer and thicker inside Fleshlight Ice.
So if you have ever dreamed of having a bigger penis (and who hasn't!) this male sex toy can give you a glimpse of how that would look like.
The only downside I have experienced with Fleshlight Ice is after I come. As you know the head of your penis becomes more sensitive after the orgasm, and when that happens I feel like I can't thrust anymore inside the Ice because the feeling is too strong to be handled.
With a girl you usually keep thrusting for a little longer after you come, but with Fleshlight Ice I feel like I can't and need to withdraw. It might even be that you like extreme sensations and find that exciting, but for me it doesn't work.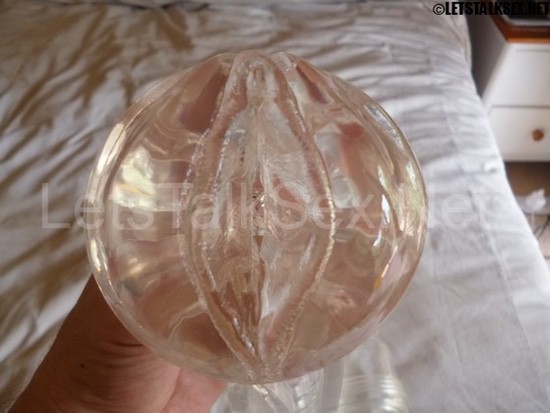 How to Wash Your Transparent Fleshlight Ice
I remember before getting Fleshlight Ice I was a little worried about the washing part. Everything is fun before you start using her, but then arrives the moment when you are done and need to clean her.
I was worried that this would be too time consuming or too boring and that it would have discouraged me from using Fleshlight Ice again. I was wrong.
Cleaning a Fleshlight is really easy and it takes no time at all. Just let the water run through the sleeve from the top to the bottom and that will do half of the job. Then rinse the end cap (which will contain your semen), quickly rinse the case and you're done.
What is the Fleshlight Ice Lady?
Ah, the infamous Fleshlight Ice Lady! Brace yourself for a frosty adventure, my friend.
The Fleshlight Ice Lady is a male masturbator, otherwise known as a pocket pussy, with a unique twist:
It's a tantalizing variation of the classic Fleshlight design that offers a one-of-a-kind and visually stimulating experience.
It's a bit like having a front-row seat to an ice sculpture exhibition, except, well, it's a wee bit naughtier.
This frozen seductress is crafted with the same high-quality SuperSkin material found in other Fleshlight models, ensuring a lifelike texture and sensation.
The Ice Lady is designed to offer an extra level of visual stimulation, allowing you to witness the intensity of your escapades in all their translucent glory.
What does the Fleshlight Ice Lady look and feel like?
Unlike a classic Fleshlight, Fleshlight's Ice Lady consists of a clear case and a transparent, "Ice" sleeve that lets you witness the action as it happens.
The Ice Lady provides a window into a world of pleasure where you can observe every delightful twist and turn your cock makes as you thrust in and out, making it one of the best Fleshlights on the market for voyeurs and BDSM enthusiasts alike.
The external orifice of the Ice Lady looks exactly like a vagina, with the main exception that it's see-through.
In terms of sensation, the Ice sleeve has a variety of internal bumps, ridges, and textures that are sure to make every thrust extra stimulating.
All that said, the Ice Lady looks and feels just like any other Fleshlight sleeve, with the only real difference being that it's completely transparent.
Does the Fleshlight Ice Lady work?
Well, if you're asking if the Fleshlight Ice Lady has a job and earns money, no, it doesn't work.
But if you're asking whether or not the Ice Lady is capable of turning you on, stimulating your cock until you're ready to blow, and letting you watch it in first-person while it's all going down, then yes, absolutely, the Fleshlight Ice Lady is worth it!
So if you're looking for a lady friend to help you pay the rent, you might want to look elsewhere.
But if you're looking for a good time, then step right on up!
How To Use Fleshlight Ice Lady
Well, my friend, using a Fleshlight Ice Lady is exactly like using any other Fleshlight. And if you're a dude, you shouldn't have too much trouble figuring out what to do.
But strap on your snow goggles and prepare for an icy, yet exhilarating journey of pleasure.
Here are a few tips on how to use your Fleshlight Ice Lady.
Lubrication Sensation: Don't be stingy with the lube, my friend. Remember, you're about to glide into a realm of delight, which won't feel so good if things are dry. So generously apply a water-based Fleshlight lube to ensure a smooth and slippery experience.
Winter Wonderland Entry: Next, gently insert yourself into the crystal-clear that is your Ice Lady. Feel the inner texture as you slide in past the external threshold, marveling at the translucent spectacle that unfolds before your eyes.
Thrust Away: Once you've lubed up and entered your Ice Lady, unleash your inner polar explorer and go to town. We recommend experimenting with different speeds and depths to find your optimal level of pleasure.
Post-Blizzard Bliss And Aftercare: After you've braved the crystal interiors of your Ice Lady and reached your peak of pleasure, give yourself a few minutes to bask in your post-orgasm bliss. Savor the satisfaction provided by your Ice Lady, but then clean your Fleshlight by giving it a gentle wash to ensure it stays pristine for your next expedition.
Remember that, whether you're using a Fleshlight, pocket pussy, vibrator, or any other toy, cleaning sex toys is a vital component of practicing safe and healthy sex.
How to better enjoy using your Fleshlight Ice Lady
Whether you use your arm to move your Ice Lady up and down, or you get a bit more creative with a Fleshlight Shower Mount or other interesting ways to use a Fleshlight, we're sure you'll love using the Fleshlight Ice Lady.
However, if you really want to spice things up, we suggest warming your sleeve up before you indulge.
This still won't rival the sensations of having sex with a sexy juicy girl, but we guarantee sliding into a warm hole is better than a cold hole.
I have shown you this already in my video above. It's really easy to do and it makes a ton of difference.
Fleshlight actually sells a branded sleeve warmer, however, we feel it's a bit pricey since you can warm your sleeve up adequately by running it under hot water.
Just be careful not to overdo it. And certainly, don't boil it, unless your goal is to ruin your Ice Lady for good.
Can I heat my Fleshlight Ice Lady up in the microwave?
No! Absolutely not! Please, do not ever try to warm up your Fleshlight in a microwave or oven.
Not only is this likely to melt and destroy your beloved sex toy, but if it survives the ordeal, you might end up shoving your beloved penis in a hole that's too hot to handle.
In all seriousness, warming your Fleshlight up in a microwave or oven can lead to serious injuries, which we'd rather not have to discuss with you!
7 Fleshlight Ice Usage Tips
Here are a few tips based on my experience with Fleshlight Ice, if you have any more suggestions feel always free to add them at the bottom of this review.
1 – Use a Pillow
Put your Fleshlight Ice at the edge of the bed with a pillow on top of it, allowing only the orifice to sneak out of the pillow. Keep the pillow down with one hand and thrust inside it like if it's a doggy styled partner. That feels awesome as you can move your hips back and forth making the whole experience even more realistic and exciting.
2 – Use The Right Amount of Lube
If you put too much lube (I did that the first time) it will leak from the bottom of the case or from the top as you thrust. A lot of lube feels great, but if you go for that option, I would suggest you to put a towel underneath you so that you don't make too much of a mess.
3 – Water Based Lube is Better
Following the above tip, use water based lube, ideally the Fleshlube itself. I have tried Fleshlight ICE with both Fleshlube and other lubes I use for sex and found that Fleshlube feels better (well, it's designed for it, isn't it?). Here is more about the best lube for Fleshlight.
4 – Have a Towel Close to You
If you put some lube on your penis too, have a towel or something to dry your hand before grabbing the toy and start stroking. If your hands are slippery you won't be able to regulate the suction cap (you'll still be able to thrust).
5 – Experiment New Angles
Rotate Fleshlight Ice and find the thrusting angle that you like best. When you rotate that pocket pussy, the stimulation feels a little different and I have found that some positions are more arousing than others. Just experiment.
6 – No Baby Powder
Don't use baby powder on Fleshlight Ice or she'll lose her transparency. Also, don't use any soap with her. If you want to clean her but feel like water is not enough, get some Fleshwash which is cheap and lasts a long time.
7 – Let Her Breathe!
After you have washed the Crystal sleeve leave her on a towel or somewhere ventilated to dry. Sometimes I just leave her in my bathroom on the bath. When I wake up the day after my Crystal sleeve is usually dry and ready for the next round.
Fleshlight Ice Lady Vs. Regular Fleshlights
When it comes to pleasure-packed experiences, all Fleshlights are bound to blow your mind, or well, other things. They're all expertly designed to deliver mind-blowing sensations and make you question why you ever settled for anything less.
However, if you have a penchant for watching or harbor a voyeuristic fetish, the Fleshlight Ice Lady is just right for you.
While regular Fleshlights are sure to provide an amazing experience, the Ice Lady adds an exciting visual element to the mix: The crystal-clear sleeve allows you to indulge in a front-row seat to the action, witnessing every twist and turn as if you were a saucy spectator at a naughty show.
As you have seen in my video and photos, I did enjoy the Fleshlight Ice.
Fleshlight Ice Lady alternatives
When it comes to satisfying your carnal desires, the Fleshlight Ice Lady is just the tip of the iceberg.
Lucky for you, Fleshlight offers a ton of different sleeves and designs, ensuring that you can find something that is guaranteed to tickle your fancy.
Fleshlight Girls: Fleshlight Girls is the brand's lineup of sleeves that are molded directly from the naughty bits of your favorite erotic film stars. So if you've ever fantasized about getting freaky with Riley Reid, Stoya, Mia Malkova, or a handful of other sexy adult stars, you're in for a real treat!
Fleshlight Flight: Looking for something more discreet and travel-friendly? The Fleshlight Flight has got you covered. These compact and sleek models are designed to be more discreet than classic Fleshlights, making them the perfect companion for your pleasure on the go. They may not come with in-flight entertainment, but they'll surely make your solo journeys a whole lot more exciting.
Classic Fleshlights: They say that the classics never go out of style. With the classic Fleshlights, you have the freedom to mix and match various sleeves and cases to build your own Fleshlight and customize your pleasure experience. Get creative, explore different textures, and find the perfect arrangement that makes your toes curl and your heart race.
So, my adventurous friend, as you can see, the Fleshlight universe is vast and full of tantalizing options.
And if all that wasn't quite enough to get your engines revving, you'll be glad to know there's a whole other universe of fake vaginas, blowjob machines, prostate massagers, and more just waiting to be explored!
Where Can I Buy The Fleshlight Ice Lady?
If you're searching for a Fleshlight Ice Lady, you'll be glad to know that there are a plethora of online sex toy retailers that carry it and other Fleshlight products.
Fleshlight Official Website: If you want to ensure you're getting a genuine Ice Lady, we recommend heading straight to Fleshlight's website to make your purchase.
Lovehoney: Another great place where you can safely buy Fleshlights and any other mainstream sex toy for that matter.
Adameve: Probably the best sex toy shop in the world.
By purchasing directly from them, you can guarantee an authentic Ice Lady experience that is sure to send shivers down your spine in all the right ways.
What are the best Fleshlight Ice Lady accessories?
Fleshlight sells a range of accessories that can complement and enhance your experience.
For instance, we've already mentioned the Fleshlight Shower Mount and Sleeve Warmer, which we're sure you can see why they'd make a great addition to your masturbation routine.
But the company also sells Fleshlight Renewal Powder, Fleshlube, antibacterial Fleshwash, and more!
Fleshlight Ice Crystal Series: Which One Should You Get?
When shopping around for a Fleshlight Ice, you might come across different Ice sleeves, such as the Ice Lady, Ice Mouth, or Ice Butt.
No matter which one you choose, you're welcoming in a whole new world of intense, scintillating sensations.
But which one you should buy really depends on your personal preference, sexual fantasies, and desires.
If you want a classic oral or vaginal experience, we suggest the Lady or Mouth sleeves. Or, if you have an affinity for anal play, the Ice Butt is sure to tickle your fancy.
Either way, if you're looking for a visually-scintillating experience, I'm positively sure you'll love the Fleshlight Ice series.