Fleshlight Turbo is designed to replicate the sensations of a lifelike blowjob and comes quite close to the real thing. It's available in two models: Fleshlight Turbo Thrust and Fleshlight Turbo Ignition.
My Verdict:
Does it feel as good as a real blow job? Well, no. I've had some pretty mindblowing BJs that could put the Turbo to shame. But it does a better job than your typical handjob.
Fleshlight Turbo is a must-have for people who've never had the opportunity to experience a deep-throat in real life. Make love to it or fuck it silly, the choice is yours.
Overall, this is not a great woman but it is definitely a close second. Practice with the Turbo Fleshlight and you'll last a long time when the magic day of your first deep throat will come. The look in her eyes will be worth all the time you spent "practicing".
Pros:
Getting deep throats. Some girls can't get away with that much deep throating. Notice how I say 'some'? That's cause most definitely can.
Fleshlight Turbo Thrust is extremely portable, so you could carry it with you on vacation or, if you're feeling extra horny, carry it with you to work. Get off during your lunch break. But don't be sneaking off into the bathroom every 30 minutes. That's just weird, okay?
The Turbo Fleshlight is very easy to clean.
With proper maintenance, you may be able to use the sleeve for a very long time.
If something were to happen to the sleeve, you could easily buy a replacement sleeve. And it wouldn't cost you an arm and a leg. Maybe an arm.
Cons:
100% manual male masturbator.
The suctions is not as tight as the other Fleshlights.
The opening of the sleeve looks delicate and may tear if not taken care of.
What is a Fleshlight Turbo?
First off, thank you for asking this question so I can show off my knowledge a bit. So you probably know what a Fleshlight is, right? If you don't…
Well, a Fleshlight is a masturbatory sleeve that provides lifelike sensations. Some replicate vaginas, some anal openings, and some, like the Fleshlight Turbo Thrust, replicate the feelings of a sensational blow job.
My Fleshlight Turbo Review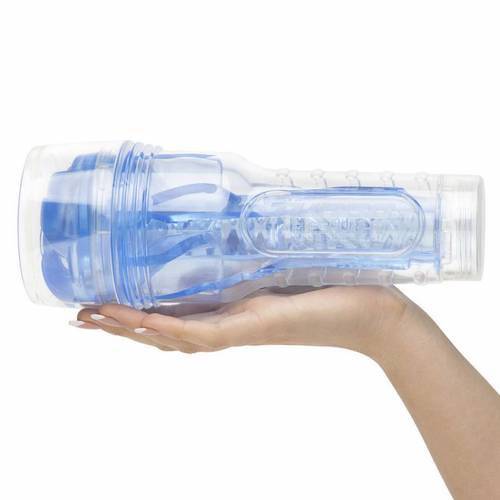 The Fleshlight Turbo has been specifically designed to simulate the pleasures of a blow job. Oh God, a blow job. Wish I were getting one right now. While I write. With the Fleshlight Turbo Ignition and Thrust, that's possible, but I'm going to finish this first. Don't want to get carried away.
Or do I? Mm…. maybe I'll take a quick 10-minute break.
No more Miss whats-her-name who gave me such a bad blowjob. Like, show some spirit, girl. Put your head on it. Arrghhh… are machines really replacing humans? Hell, I'm replacing her, that's for sure.
The Fleshlight Turbo is available in two models: Fleshlight Turbo Ignition and Turbo Thrust, and two colors: Blue Ice and Copper. So you guys probably know that I've tested several male sex toys before (Yes, I'm a lucky dude!) and you know I like to be thorough when it comes to reviews.
So, because I want to be as thorough with this review as well, I got myself a Turbo Ignition in Blue Ice and Turbo Thrust Fleshlight in Copper. That way I get to really assess them both.
Fleshlight Turbo First Impressions
I ordered my Fleshlight Turbo from the official website. It appeared in my doorstep in a discreet, unmarked box.
I value the discreetness so much. Don't know about you, but I have some pretty nosy neighbors who're always sticking their nose where it shouldn't belong. "Mind your own business, Gale."
Imagine if it came in a big box with the picture of the Fleshlight Turbo on the packaging. That would make for some awkward elevator talk.
The packaging only consists of my address and identifies the shipper as ILF (Interactive Life Forms, the company behind Fleshlight), so unless your mom decides to open the package to see what's inside, your secret's safe.
Good thing is, even if she does, she might be super confused about what you ordered. You could lie and tell her it's a flashlight. It sure could pass for one.
The Fleshlight Turbo looks nothing like the other Fleshlights with the openings shaped like vaginas or anuses. The opening doesn't look like a lip at all.
Other than that, the Fleshlight Turbo doesn't look that different from the standard full-size Fleshlights like the Fleshlight Original or the Fleshlight STU. The color and the see-through sleeves are different, of course. But other than that, not much has changed.
Fleshlight Turbo Specifications
Name: Fleshlight Turbo

Variations: Turbo Ignition, Turbo Thrust

Total Length: 9.75''

Insertable Length: 3''

Width: 3''

Weight: 1.3 pounds

Colors: Blue Ice, Copper

Materials:Real Feel Superskin

Category: Oral sex simulator

Orifices: Thrust orifice in the Thrust model, Ignition orifice in the Ignition model

Waterproof: Yes
Unlike my experience with the Fleshlight Launch in which I had to wait a whole 9 hours before getting to try that baby, this one I tried right after getting my hands on it.
I wanted to try the Ignition first because frankly I'm a little turned on by the transparent blue sleeve.
How I used the Fleshlight Turbo
First off, I took the Fleshlight sleeve off the case and ran it under warm water for about 5 minutes. You can use the Fleshlight Sleeve Warmer, if you have it, or simply run it under warm water. That's the best way to get it all warm and simulate the feeling of a warm, sloppy mouth.
Yes, somedays you may be tempted to try it on right away, but dear God, don't stick it in a microwave oven to warm it up first. That's saying goodbye to your Fleshlight and your money.
Then I shook away the excess water from the sleeve before re-inserting it into the case. The tightness that you want can be adjusted from the bottom of the cap. I started slow.
I lubed up good. When it comes to lubes, I've found that it isn't good to be greedy. The more, the sloppier. Put some on your dick as well as the sleeve. I've talked about the importance of using lubes and what lubes to use with a Fleshlight.
Once I was done lubing up, I just went to town with it. First, I just played around the lip and tongue area for some time. An oral sex feeling was being ideally performed as the sleeve really sucks you in.
I decided to get deeper into the deepthroat zone of the Turbo. The best method I found is to fully penetrate the sleeve and then slowly twisting the sleeve around in a full circular motion to build up your pleasure.
I gradually increased the speed of thrusting and also tightened the end cap to increase suction. The sensations to say the least are mind-blowing.
I have since used the Turbo many times and sometimes the sensations are so good that my orgasms are off the Richter scale!
Just don't get all lazy and use it only when you're on your bed lying down. Experiment. Use it in the shower, the kitchen, wedge it between pillows. Try different positions and see if that works more for you. For ideas, read our guide on how to use a Fleshlight.
Fleshlight Turbo Thrust VS Turbo Ignition
The outer appearance of both the Thrust and Ignition models are the same. However, their sleeves are designed differently to give you a slighter different feel.
The main difference between the two is felt when you're about 3 inches deep in the sleeve. The sleeve of the ignition feels a little tighter than the thrust orifice. The suction is also felt more in the ignition model.
While the ignition may feel a little more intense, some may not even be able to tell the difference. I mean I have them both and sometimes even I can't tell. Sometimes, though, I feel like the Thrust feels more natural BJ-wise while the intense feels more deep-throaty.
The sleeves are different too and the copper is a little on the thicker side while the blue ice is more on the stickier side (similarly to the Fleshlight ICE). So, that makes a difference in stimulation too.
Anyway, if you want them both, get them both. But to be honest, there's really no point in getting both of the models since the experience is quite similar.
Turbo Fleshlight Features and Final Thoughts
The Turbo Fleshlight has a three-part entrance that is designed to mimic the lips, tongue, and throat experience. The lips and the tongue section hold on to your penis snugly and offer an airy, gentle resistance that you may enjoy as much as you like.
As you go deeper, you feel the throat area of the Fleshlight that have been designed with ribs and small bumps to hit your spots.
If you get yourself the Blue Ice version, the clear case allows you to watch your dick while you enjoy the Turbo Fleshlight. If that's what turns you on, by all means, watch. While using with a partner, you both get to see the action.
However, if you get the Copper version, the visual is blocked. So, if you would rather not watch yourself cum, the Copper may be for you.
The cap at the bottom can be tightened to increase suction. When the cap is screwed on all the way, the suction gets so strong that it makes a weird noise.
That doesn't bother me much, but if it bothers you, then maybe the Fleshlight Turbo is not for you. Or just put some music in the background.
The Fleshlight Turbo demands that your dick be erect before insertion. Believe me, I tried.
So if you were thinking of inserting your flaccid manhood and expecting the blowjob to turn it on for you, tough luck.
The Turbo Fleshlight provides a rather airy opening. As in, you will feel very little resistance upon insertion because of the way that it's built, thanks to the openings in the side.
So, unlike a standard Fleshlight, you won't feel like you're pushing into something but more like you're being taken in gently and effortlessly.
As you push yourself in an inch or two, you'll finally start feeling the resistance. This is what makes it so different from the other Fleshlights. The sleeve is designed to put pressure on all your sweeeet spots.
Fleshlight Launch Compatibility
The Fleshlight Launch is an interactive motion device that provides hands free stimulations.
The case of the Turbo is not compatible with the Fleshlight Launch. However, you can take off the sleeve from the Turbo, fit it into a regular Fleshlight case, and enjoy the stimulations with the Launch. You're welcome.
The Fleshlight Turbo accommodates us average Joes with average-sized penises. The throat experience starts somewhere around 3'' itself, so the experience of a deep throat is easily achieved.
However, if you're a Greek God with your cock coming all the way to your knees, this may be a tad bit small.
The Fleshlight Turbo is, of course, quiet and your neighbors won't hear you smacking your meat. But, it does make some sexy sloppy sounds that drive me into a frenzy at times. The neighbors don't hear the toy, but they sure as hell hear me moan….
With the Copper Thrust, I took a really long time to cum. But the journey was incredibly pleasurable.
With the Blue Ice Ignition though, I came faster. The journey was intense. And I wanted to edge a couple of times but couldn't.
I can't really decide between the two. But overall, I like it…
Overall, I think this was a good investment. This is unlike any other Fleshlight out there and I've tried them all. Yes, it's manual but it doesn't cause your hands to cramp or anything. And I'm seriously building some muscles, I swear.
Cleaning the Fleshlight Turbo is as easy as cleaning other standard Fleshlights. I've actually written a whole article on how to clean your Fleshlight.
However, I'll keep it short here and say this. Clean the case with soap and warm water. Wash the sleeve with warm water, insert a finger to dislodge the cum and spray some Fleshwash on the sleeve.