Yes, pregnant sex dolls do exist. When it comes to sexual fantasies, you never know how far out they will go.
In the world of sex dolls, some folks are looking for aliens, transsexuals, or dolls that look like famous people, but with pregnant dolls they're reaching for the stars.
Pregnant women are great at sex, but they're not easy to get into bed. It's doable, but challenging. Buying a pregnant sex doll is much easier.
Unlike real pregnant women, pregnant sex dolls have big bellies that never go away. And they're always at your disposal. This is a list of the best pregnant sex dolls you can find online, customize, and bring to your bed.
Top 3 Pregnant Sex Dolls
Pregnant Sex Doll
Price
Information
See Price
Height: 5 ft 2 in
Weight: 110.23 lbs
Material: Silicone + TPE
Bust: 35.83 in
Waist: 32.28 in
Hips: 40.94 in
See Price

Height: 5 ft 3 in
Weight: 110 lbs
Material: TPE
Bust: 34.8 in
Waist: 32.3 in
Hips: 40.9 in
See Price

Height: 5 ft 2 in
Weight: 110.23 lbs
Material: TPE
Bust: 35.83 in
Waist: 32.28 in
Hips: 40.94 in
The Best Pregnant Sex Dolls
Pregnancy is a magical and special time for all women. Estrogen levels rise, the body changes, breasts get bigger and libido increases.
These dolls have soft skin, metal skeletons, and faithfully mimic the body of women at different stages of pregnancy; from those about to give birth to just a few months pregnant.
Choosing a pregnant doll is not as simple as it may seem as the characteristics to look out for vary from doll to doll, and they all have their pros and cons. But I'm here to help you out.
1) Clarie – The Best Pregnant Sex Doll Overall
Features
Breast cup I
Sensual and sweet
Very pronounced belly
Specifications
TPE with silicone head
Weight: 110 lbs
Height: 5 ft 2 in
A luxury doll made to satisfy an obscure desire: making love to a pregnant woman. Clarie has a body softened by pregnancy, Asian features and long dark hair.
She's an example of the highest possible quality achievable by sex dolls; a realistic, soft, TPE body, and a silicone face.
The price is high because this doll has unique characteristics. Her belly is very pronounced and her breasts are a perfect I cup.
She's not too bulky or difficult to carry.
You can customize Clarie as you like by changing the color of her skin, eyes, and hair. You can change her feet, pubic hair, nipples, and breasts.
What you won't be able to change is the depth of her vagina: 6 in, her anus: 5 in and her mouth: 4 in.
A doll like this is not an experience to be missed. You can give her to yourself for your birthday and always have the pregnant doll of your dreams right by your side.
2) Expecting Elizabeth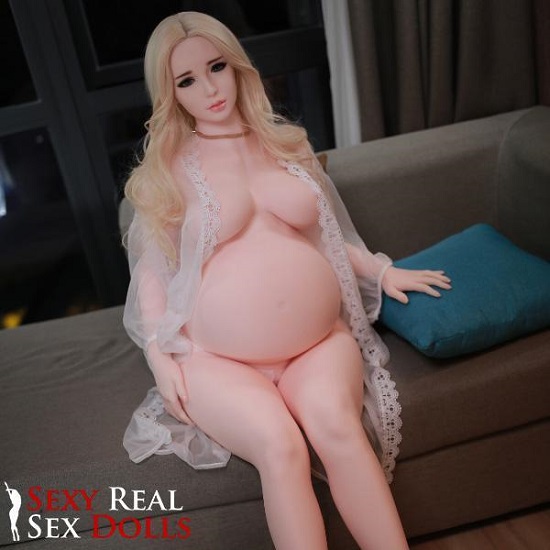 Features
Sweet and welcoming
Prosperous breasts and belly
Customizable
Specifications
TPE
Weight: 110 lbs
Height: 5 ft 2 in
Elizabeth is a sexy, 5 ft 2 in tall pregnant sex doll. She is lifelike and made with high quality TPE.
This doll, although pregnant, is super flexible. She will drive you crazy during sex, taking any position you want, even in her condition. Don't worry, she's just a doll.
Elizabeth is curvy even with her big belly, with sweet big boobs and a nice soft ass. Elizabeth is so sweet that she will fulfill all of your sexual desires and then let you sleep in her warm cuddles until you want her again.
Despite the fact that she is pregnant, there is no sex position she will not engage in as long as you are cool enough with her.
Her vagina is realistic, designed to feel like that of a real woman (almost). She can also give you mind-blowing anal sex and, even better, a magical oral experience.
Elizabeth, let's call her Liz, has beautiful blonde hair, realistic skin and she's soft to the touch. But, if you want, you can modify her features as you like.
Make Liz the doll of your dreams, but don't forget to take care of her by washing her after each use.
3) Jeniece Preggo Doll
Features
Breast cup I
Customizable
Elegant
Specifications
TPE
Weight: 110 lbs
Height: 5 ft 2 in
This elegant and pregnant doll is the physical embodiment of your most secret dreams. Not only is she beautiful and perfect, but she will never talk or be dramatic.
Measuring the same as a real woman, when you touch her don't be surprised to feel how extremely realistic this sex doll is.
This is thanks to the material she's made from: TPE. This material is porous and soft, so you need to be careful in washing and using her.
Enjoy Jeniece with some healthy sex, not only her vagina, but also her anus and mouth. The belly will be a fun addition to your games.
You can modify this doll however you like, making Jeniece into the perfect version of your future child's mother.
Have fun making love to her without worries, her belly will stay where it is and never give you problems.
TPE is an extremely realistic material. It is soft to the touch and porous. This, however, affects the cleanliness of the doll. Porous skin stains faster, so when you buy her clothes go for lighter colors.
4) Pregnant Doll Celine
Features
Perfect proportions
Belly not too pronounced
Breast cup D
Specifications
TPE
Weight: 66 lbs
Height: 4 ft 9 in
The proportions of this doll are her main selling point. Her tummy is not exaggerated, but it remains sexy and exciting for those looking for a pregnant doll.
Sweet, with long blonde hair, she can be used to scratch your every itch. She's made of TPE, therefore she feels very realistic to the touch. She has a metal skeleton which makes her very stable.
With this doll you can be satisfied by her vagina, but also by her penetrable anus or her mouth, both waiting for you.
Do whatever you want with her. You can also modify her as you see fit by changing her appearance and more. She is of a manageable size and not too heavy.
5) Expectant Manha
Features
Soft and lifelike body
Customizable
Breast cup B
Specifications
TPE
Weight: 90 lbs
Height: 5 ft 2 in
Manha has a welcoming and feminine body, with wide hips and a beautiful B cup. Perfectly sized to fit right into your hands.
She has the right measurements to be moved without any hassle and she is ideal for those who don't want a doll with a belly that is too pronounced.
Her hair is long and blonde and her TPE skin looks absolutely real. Why choose her? Because she's a very high quality doll for the price.
Just be careful not to damage her porous material. Wash her carefully and always let her dry before using her again.
Manha is delicate and elegant, sensual and can be customized to suit your needs. She's a beautiful preggo sex doll that you will not regret buying, thanks also to her 6 in deep vagina and anus and her 5 in oral cavity.
Her breasts are small, firm, and soft, with nice nipples that look upwards. If that's not your thing, this is a detail you can easily customize.
How to Take Care of Your Pregnant Sex Doll
Sex doll maintenance is important if you want them to last.
Silicone dolls needs less maintenance than TPE dolls. This is why the starting price is higher: higher quality.
Dolls usually come with a static vagina. What you need to do every time you finish using your doll is wash it. This can be annoying if the doll is very big.
At the same time, some people have reported feeling bothered by a removable vagina because it tends not to stay in position during intercourse. But on the other hand it is easier to clean.
Tip : When you shower your doll try not to get her head wet or get water into the metal components.
A removable vagina needs to be cleaned with mild soap and a sponge. Wait until it's dry before inserting it again.
The fixed vagina, on the other hand, must be washed by taking the whole doll into the shower and washing her with neutral soap. You can see how this process is a little awkward with heavier expectant dolls.
TPE dolls must be carefully dried to avoid the proliferation of bacteria, but never use a hairdryer. Silicone dolls also need to be dry before storing them.
Dry them with a cloth, keeping them outdoors, or using a soft towel. Once the process is done, use some baby oil to rub the skin of your doll and then add some talcum powder. By doing this once a month, the doll's skin will remain smooth and lifelike and your doll will last longer.
How Long Does a Gravid Sex Doll Last?
The lifespan of your doll depends on the type of doll you purchase and the maintenance and care you give to her.
A pregnant TPE doll could have her skin stained from clothing, or a silicone doll could deform from improper storage, but that doesn't mean you cannot keep enjoying them even with these minimal imperfections.
As with many things in life, the old adage "you get what you pay for" holds true here too (mostly).
In general, well-made, well-maintained thermoplastic elastomer (TPE) and silicone pregnant sex dolls can last up to seven years or more.
Make sure to store your expectant doll with proper care. The material of sex dolls can warp over time if you leave them in the same position on a hard surface for too long.
You can then store the doll in the box it came in between pillows and blankets, or purchase the closet storage method. It's a hook to hang the doll so that it doesn't get damaged.
Can I Customize My Preggo Sex Doll?
As you may have noticed by reading this article, lifelike TPE or silicone pregnant dolls can be customized in several ways.
You can add details such as elf ears, or simply change some details. You can choose the color of the skin, eyes, and hair. You can buy several heads to pretend you have multiple dolls.
In some cases it is possible to modify the feet to make your doll stand upright. You can even add body heat or a voice. You can choose more realistic shoulders or change her breasts.
Customization of the dolls depends on the individual product or the sex doll shop. There are some cases in which you have to buy the doll as it is shown on the website, while in other cases it is possible to have a total transformation.