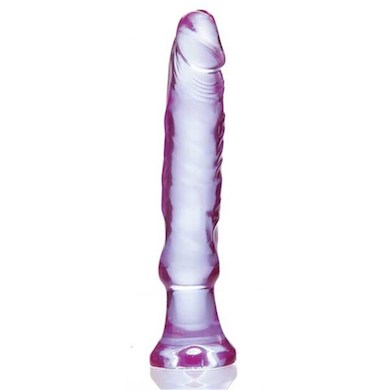 "Hey I bought a dildo! Now what?" If this is you, relax and discover how to use a dildo for your fun, leisure and even personal defense!
Dildos are one of the most traditional, most widely used and owned sex toys on the market. From rubber to glass, there's something for everyone. Every serious adult toy shop sells them, and chances are if you are reading this article you own one too.
Over 1 million dildos are sold each year, and while it may seem like a lot, when you consider exactly how many uses these little (or not so little) guys have, you might start asking yourself why everybody doesn't own one.
The number one use for dildos is vaginal penetration. I know many lonely ladies who have fallen in love with their dildos, and it's not hard to see why!
How to Use a Dildo for Vaginal Penetration
Step 1: Choose Something Suitable First
To use a dildo for vaginal penetration, you or a partner should choose something suitable first. If you're a confident lover of penetrative sex then you may opt for a bigger size, but if you're new to the game, there are plenty of starter stubs too.
Step 2: Make Sure You Are Lubricated!
Make sure you are well lubricated before inserting your dildo, if you have trouble at first, try arousing yourself some more before trying again, or keep a bottle of lube handy for extra comfort. Be sure to use a lubricant that is compatible with the material of the dildo, and with condoms.
Step 3: Find The Kind Of Penetration You Enjoy
Every one is different, and you should find a kind of penetration you enjoy. Is it hard and fast, or gentle and slow? Move the dildo in and out of the vagina in whatever way you enjoy most – listen to your body and give it what it wants.
Step 4: Try Different Positions
You can use your dildo in a variety of positions, the usual masturbatory position is to just reach down and insert it between your legs, but in order to find your G-spot it might be worth trying some alternative positions. Try using your dildo on your hands and knees or even while sitting upright to see what really hits your spot. Here are some dildo suggestions. You can thank us later.
The Basix 6″ Dong With Suction Cup is ideal for newcomers; not too big, not too small, and it's almost completely smooth. There's a handy suction cup in case your hands are unused to manual labour. It's basic, yes, but it does the job.

The So Real 6 Inch dildo is great for play if you like something a little more realistic. There are 6 inches of firm, veined realism to keep you up all night. If you've been single for a while and have forgotten what boxer short contents look and feel like, then this will remind you.

The 8 Inch All American Whopper Dong is a perfect dildo if you are looking for realism and size, plus it comes in realistic skin tones to suit your fantasy. Why not buy one of each colour? Can someone open a window? It's getting steamed up in here.

How to Use a Dildo for Anal Play
Step 1: Choose the Right Dildo
When choosing a dildo for anal play, ensure it is smooth and firm – a soft floppy dildo is unlikely to hold its own during anal play.
The Crystal Jellies Anal Starter dildo is the first port of call for the anal newbie. It's got give, modest size, and it's easy on the wallet just in case you don't like anal play. You will though! Don't be scared, this dildo will ease you into the anal world softly and gently.

The Fun Flex Anal Teazer is perfect for beginners and intermediate players too. Its slim, it's bulbous, and there's a handle to help you along. Beginners can start off with the smaller bulbs or even the handle, then once you've got some practice in, you can insert further to the bigger size bulbs. You won't need to hold your breath and hope for the best – this is just like stoking a fire – quite literally. A great investment.

For serious lovers of anal penetration, this toy aims to penetrate anally, vaginally, and stimulate your clitoris! It's a hard-working three-in-one dildo – just call it the holy trinity of stimulation heaven.

Step 2: Lube Up!
Anal play requires a little more caution than vaginal penetration for several reasons; the rectum is more prone to damage, and anal sex can be uncomfortable unless you are completely relaxed and have plenty of lubrication. Like for the vaginal use, make sure you buy a good bottle of lube that is compatible with the material your dildo is made from.
Step 3: Slow and Steady Wins the Race…
Anal penetration requires a slow but firm pressure in order to overcome the muscular walls, luckily most dildos have a flared base that allows you to grasp on firmly and securely. If you're penetrating yourself use the base to ease the dildo in and out of your ass. It's always good to try toys out on your own first so that you are happy and confident about what you like and how to use your toy.
Step 4: Give it Some Time and Find Your Rhythm!
Many people report some mild discomfort during their first time receiving anal penetration, giving this 30 seconds to a minute to subside should see you enjoying the sensations the dildo brings – if you find penetration uncomfortable or at all painful, stop before you damage yourself. Do you need more lube? Perhaps a smaller dildo? Maybe you need to relax more or try penetration at another time.
Step 5: Introducing Anal Play to Your Male Partner…
Anal penetration can be particularly pleasurable for men, as most men like to have their prostate stimulated via the rectum. While some can be shy to try, many guys who have been talked into trying it by their girlfriends now enjoy it as a regular (and explosive!) part of their sex life. There are plenty of prostate massagers and dildos suitable for anal masturbation, and anything with extra prostate stimulation (this can include lumps, bumps, or an extra 'arm' like the rabbit) can add another layer of pleasure for male users. Among the best prostate toys on the market is the famous Aneros line.
Many anal dildos can be strap on, or 'pegging' dildos like this:

If you don't like the look of a cock then try an anal wand. The Jelly Fun Flex Anal Wand might float your boat. Its 9.5 inches of blue latex, has six tapered beads and can be warmed up or cooled down. Bet they didn't use this at Hogwarts. Keep an eye out for 'Harry Potter visits Club Tropicana'. We've already got our popcorn.
How to Use a Dildo With a Strap On Harness
The strap on harness is a dildos best friend. Strap on harnesses come in all sorts of shapes, sizes and materials – from PVC to leather – and let you go hands free while you penetrate your partner.
Step 1: Finding the Perfect Harness and Dildo Combination
Strap on dildos come in countless shapes, sizes, and colours – you can get hollow dildos that slot over you or your partners penis, you can even get dildos that sucker on to surfaces, your harness, and even you! Similarly, harnesses don't have to be limited to around your hips and between your legs – you can find harnesses for almost any part of the body, and even for objects!
For first timers, buying a strap on dildo kit is a great way of trying out strap on sex:
Try the Bound By Diamonds harness kit for some strap on fun. The harness is very pretty with its diamond straps, plus it comes with a dildo in case yours has broken from overuse.

Step 2: Harness Up and Strap It On!
Firstly, make sure you read the instructions for your strap on harness to avoid too much confusion in the middle of sex! If things are getting heated in the bedroom and you think you might want to use a strap on dildo, strap in on in anticipation to avoid an unromantic shuffle to get the harness on! While strap on harnesses may vary, the majority have one thing in common – the 'O' ring. The O ring will be built in, or attach itself to the strap on harness, you simply insert your dildo into the O, step into the harness, adjust, and you're ready to go!
Step 3: Trying Out Different Positions
Pump and thrust in all the same ways you would with an anatomical penis, you can penetrate your partner anally or vaginally – any and all positions are possible. As you don't have as much control over the dildo as you would if it was hand held, first timers should take it slow and gentle at first. The benefits of having your hands free are endless – a common use for these during strap on sex are to provide extra pleasure! Try penetrating your partner from behind while you reach round and massage their penis/clitoris at the same time.
How to Use a Shared Dildo
Many sex toy companies are beginning to up their game in the shared dildo market. Recently we have seen an increasing number of truly beautiful and ergonomic toys being manufactured, including the share dildos like the Fun Factory 'Share' model:

Step 1: Tone Those Pelvic Floor Muscles!
Most share dildos are designed to be used with no harness at all, using the contours of your body to stay put. While this is a hugely exciting liberation from the cumbersome strap on harness, it is often an art that requires a little practice. It all lies in the pelvic muscles, pelvic floor exercises (such as clenching and unclenching your pelvic muscles whilst peeing!) are great practice if you want to become a share dildo pro – and can also improve orgasmic sensation!
Step 2: Inserting the Dildo
Insert the shorter side of the dildo into the vagina, and try and grasp the form with your vaginal walls – this can only be described as the sensation of pulling the dildo up and in with your pelvic muscles. If it falls out – don't worry. Once you have inserted the longer end of the dildo into your partner, things become a lot easier as you share the weight.
Step 3: Find the Perfect Position, or Try a Little Buzz…
Find a position that feels easy, and allows the middle part of the toy to rub against the wearer's clitoris. Rock back and forth and find a rhythm that suits you both – things should take off in no time. Some share dildos can even accommodate vibrating bullets to enhance the sensation for both parties – it's a nice twist on the traditional 'strap on' penetration that can be much more pleasurable for the partner doing the penetrating, as well as the partner being penetrated.
The 'Feeldoe' comes with a removable vibrating bullet to add pleasure for both partners:

The 'Realdoe' is similar and also comes with the vibrator option, but – you guessed it – it's more realistic:

How to Use a Dildo for Temperature Play
If you've visited a high class sex shop, chances are you stumbled across a rather beautiful glass dildo. While these are some of the most elegant and sophisticated sex toys out there, the material isn't just for show.
Glass, metal or stone dildos can safely be heated up or cooled down to create extra sensation all over your body!
Step 1: Choose the Right Material
You can purchase glass dildos for temperature play, which are lightweight yet sturdy.  Consider stone or metal dildos, which while retaining heat or cold very well, weigh and awful lot more than their glass counterparts. While glass dildos are perfectly safe to use if you use them responsibly, the plus side of stone is that you never have to be nervous about it breaking!
Step 2: Hot or Cold?
Safely heat or cool your dildo in hot water or an ice bath – pat it dry and you're ready to go! Of course, nobody should hold a freezing cold or scorching hot object against their anatomy, but a change in temperature can achieve a surprisingly heightened sense of arousal. If it's a little too hot or cold at first, try running it down your partners thighs or back as part of foreplay before using it for penetration.
Step 3: Safety First!
Just remember – never move your glass dildo from a hot atmosphere to a cold atmosphere too quickly to avoid dangerous warping and weakening of the glass. Secondly, never microwave your glass dildo as it will create unexpected hot spots.
Glass dildos come in an amazing variety of colours and patterns. Check out the Red Hearts Glass Dildo – it is gorgeous. More gorgeous than Angelina in fact – we bet she's got several of these lined up next to her waterbed.

The Sinclair Select Crystal G is a curved glass dream. It's beautifully engraved with ivy patterns and perfectly curved to hit your g-spot. Gardening will never be the same again.

If you are feeling a tad more adventurous with your glass dildo try the Prisms Sattva Glass Rabbit. There a nub for clitoral play just like the famous rabbit – but this one is much classier.

Metal dildos can come in all sorts of shapes and sizes:

Stone dildos are the heaviest, most durable dildos on the market:

How to Use a Dildo as an Ornament
While it may not be to your taste, many dildos are created for purely ornamental purposes. From the downright beautiful to the dangerously massive – some things are just for show. Large rubber penises that stand proudly at 3 feet tall, or twisting golden curves in-cased in velvet boxes – if you're a sex toy aficionado, then one of these might just take pride of place in your designer dungeon.
The designer and boutique sex toy market is booming – nowadays there is a wealth of both beautiful and mind boggling toys that are great to use or to have on display for the more discerning and daring lovers.
Step 1: Find a Theme
If you've decided that you want to display your dildo, think about the room it will sit in – what looks better in your bedroom? Glitter, glass, or colorful silicone?
Step 2: Be Inspired
If you want an example of toys that look great on the mantelpiece, pay a visit to your local high-class boutique sex shop – but be prepared to pay a pretty penny for some of the most tasteful and tantalizing products.
Step 3: Establish Your Style
Do you want something sophisticated and discreet? Try something that comes in a beautiful box or stand. If you want a talking piece, perhaps a larger freestanding form is more your style.
If you're after something that highlights your classy yet naughty side, the Icicles no.38 Glass Whip might be to your taste. The whip is real feathered leather, which is great for tickling if actual whipping isn't your thing. The handle is a shatterproof glass dildo with raised etching. It's a lovely thing to look at, as well as a lovely thing to play with.

If you are a lover of design then a patterned glass dildo would look perfect on your mantelpiece. Check out the Crystal Heart Of Glass it's a perfect valentine's gift. Actually it's a perfect gift for any time.

If you love big, bold designs, or want something colourful and 'in your face' the Big Blue 8 Inch Dildo certainly makes a statement! As a stand-alone piece it'll make quite an impact, but if you decorate your room with the same colours you might find people wander around before noticing it…

…watch their faces as the realization dawns on them! Hours of fun.
How to Use a Dildo on Fancy Dresses
If you're attending a drag ball or fancy dress party, a pack and play dildo could add a bulge to a gender bending outfit.
Step 1: Harness Up
You can pop these in the pocket of your undies, wear them in a harness, or buy a 'jockstrap'. You then pop your pack and play dildo in its harness/pocket much like you would a normal strap on. The difference is these dildos sit more discreetly under your jeans to create the appearance of a rather appealing package beneath your clothes.
Step 2: Arrange Yourself!
Make sure the dildo is positioned in a comfortable position, won't come loose, and wont attract funny looks on the bus!
Step 3: Complete the Look
Try drawing on sideburns and a beard, and slicking back your hair to create the quintessential drag king look.
Step 4: Play Away
Better yet, these dildos aren't just for show. Unlike most 'packers' which sit limply in your pants, a pack and play dildo can be used at home when you return from the party. Some are stiff and adjustable – so you simply move the shaft into the erect position. Others require a stiffening rod to be inserted into the shaft before penetration is possible.
The beauty of wearing one of these is that you can adjust it to sit discreetly under your clothing, but use it on the go if you and your partner are planning a naughty rendezvous.
Either way, pack and play dildos are an extremely versatile toy that can be used in a variety of situations:

How to Play Dildo Hoopla
While dildoss can be sultry, sexy affairs, they can also be pretty funny objects. Bring them along to a hen party and I can assure you, you will be surprised by the creative uses people find for them. Dildo hoopla has proven a popular penis-themed party game.

Step 1: Set Up a Range of Dildos Across a Floor or Surface
Step 2: Challenge Your Guests to Throw Hoops Over Them
Step 3: Perhaps Even Give One as a Prize for the Winner!
How to Use Clone-A-Willy

Step 1: Close the curtains and lock the doors.
Step 2: Obtain a penis – get it naked. Wooo!
Step 3: Just like baking a cake, you mix up the ingredients, and insert a penis to create the mold (what? You don't make cakes like that?). Then you fill the mold with liquid rubber.
Step 4: After a few hours you will have a replica of your chosen penis. You can use this as a real dildo – it even comes with an insertable vibe to make a vibrator. They really do think of everything. Next it'll be making you a post-coital cup of tea.
There are many people who might appreciate the Clone-A-Willy. Control freaks who only want their body parts inserted into a partner, or even into themselves should definitely buy one. Or if you are a collector you can use this kit on your various partners, and then keep an array of dildos for personal use. It's nice to be reminded of the past. Plus the dildo will be a bit more useful than a photograph or a plastic rose 'This rose will never die – just like my love for you' Yeah, right. Buy some proper flowers you cheapskate.
If your other half goes away a lot, or you are in a long distance relationship, then this is a great way to keep you going in the meantime. If you partner doesn't have a hot twin, Clone-A-Willy is the next best thing. There are literally hours of fun to be had.
How to Use a Dildo For Personal Defense
Not all dildos are seductive, in fact, some are plain terrifying.
Hiding one of these huge dildos in your wardrobe is a great way to get that guy you mistakenly brought home up and out of your house. Trust me, he will be gone before you can say 'penetration'.
Step 1: Buy the Most Intimidating Dildo Money Can Buy
The King Dong is 15 inches of pure terror. Nothing can top this monster.

Step 2: Brandish Threateningly
While some are long enough to fence with, and heavy enough to render a wrestler unconscious, usually brandishing one of these, especially a realistic model,  is enough to get even the toughest nuts running away with their tails between their legs!
Step 3: Watch 'em Run!
If Mr. Weirdo isn't scared of a massive dildo, just say it's a cast of your ex's erection. That will prevent any shenanigans occurring. Congratulations, he is totally flaccid and unable to pester you.
How to Use a Dildo To Strengthen Your Dog's Jaw
If all of these uses still have you wondering what to do with your hunk of rubber, there is one more option…
Big, tough, rubber toys are great for the dental health of man's best friend. If its a decent rubber dildo, Fido should be able to chew, gnaw, play fetch, and tug of war to his hearts delight. Just make sure he doesn't swallow the thing!
Your canine friend isn't fussy when it comes to the shape and size of their chew toy, so why not give the dog a bone?
Dildo Time: No More Excuses
So, if you were stuck for things to do with your phallic friend, look no further. Dildos  range from the outlandish to the standard and come in every shape, size, texture, and animal. You can pick one up for a few bucks or blow a whole month's pay cheque on something really special. Just choose carefully, and find one that's right for you.
So, if you're a more conservative lover, the traditional vaginal penetration is probably the best place to start. If you're already hello kinky, temperature play and ornamental dildos might be your calling. Its hard to argue with the fact that these are great toys; you can use them on your own or with partners, for naughty party tricks (whether its as an outfit or a game), you can of course use them through the backdoor as well as the front, and you can even fend off a seedy suitor. What's not to love? If you still can't bring yourself to admit that dildos are great, you can even feed it to your dog.