If you've ever dreamed of being pegged, prodded or penetrated by your penisless partner, you'll need to start by getting your hands on a dildo harness.
You can have your first sweet taste of the pegging pudding very soon, but you may need some useful info first to get you started.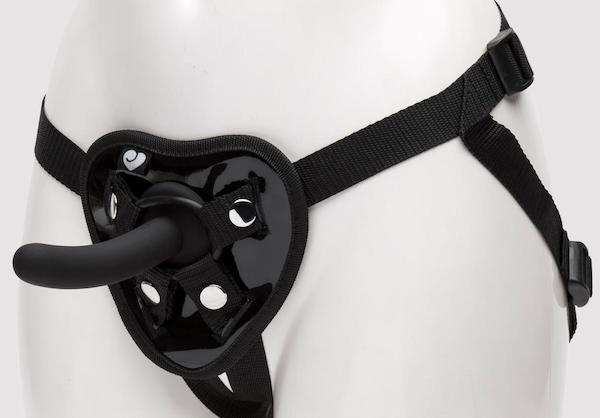 Top 7 Best Dildo Harnesses to Buy (2022)
Product
Price
Information

Happy Rabbit Vibrating Strap-On Harness Set
See Price
Length: Approx 7"
Length (Insertable): 5"
Harness: Adjustable up to approx 67"
Waterproof: Submersible
Phthalates: No
Circumference: Approx 4"
Latex: No
Power: Rechargeable

All American Whopper 8 Inch Vibrating Dong with Harness
See Price
Length (Insertable): Approx 6.5"
Length: Approx 8"
Material used: Metal, PVC, ABS (plastic)
Width: Approx 1.5"
Key Features: Vibrating, realistic, harness compatible, adjustable, multiple Speeds, made in America
Harness: Adjustable up to approx 44" waist
Phthalates: No

Beginner's Strap-On Unisex Harness Kit
See Price
Length (Insertable): Approx 4.5"
Length: Approx 5"
Material used: Made of silicone
Harness: Adjustable up to approx 68"
Circumference: Approx 3"
Kit:  3 O-rings, 5 different dildos, harness Phthalates: No

KingCock Strap-On Harness with 6 Inch Dildo
See Price
Length (Insertable): Approx 6"
Length: Approx 6.5"
Material used: Vinyl
Width: Approx 1.5"
Key Features: Lube included, adjustable, realistic, made in America, toy cleaner included
Harness: Adjustable up to approx 52"
Phthalates: No

6 Inch Strap-On Beginner's Clear Unisex Harness Kit

See Price
Length (Insertable): Approx 6"
Length: Approx 8"
Straps: Nylon
Material used: PVC
Phthalates: No
Circumference: Approx 4.5"
Kit: Harness kit, 6" dildo

Advanced Vac-U-Lock Strap-On Dildo
See Price
Length (Insertable): Approx 10"
Length: Approx 10"
Material used: TPE
Circumference: Approx 6"
O-ring Diameter: Approx 2"
Phthalates: No

Pink Harness with Stud
See Price
Length (Insertable): Approx 6.5"
Length: Approx 7.5"
Phthalates: No
Width: Approx 1.5"
Key Features: Realistic and adjustable
Harness: Adjustable up to approx 50"

Zado Leather Mouth Gag Dildo Harness
See Price
Length (Insertable): Approx 5.5"
Length: Approx 8.5"
Strap: Leather
Waterproof: No
Circumference: Approx 4.5"
Harness: Adjustable up to approx 28"
Canal Diameter: Approx 3"

DOMINIX Deluxe Leather Strap-On Harness
See Price
Max Harness size: 46 in
Allergens: Latex-Free, Phthalate-Free
Material: Leather
Key Features: Sophisticated bondage look

Chantilly Lace Corset-Back Strap On Harness
See Price


Max Harness size: 60 in
Allergens: Latex-Free, Phthalate-Free
Waterproof: No
O Rings sizes: 1.5 in, 1.75 in, 2 in
Key Features: Chantilly lace overlay, wide waistband

Strap-On-Me Curious Adjustable Strap-On Harness
See Price
Max Harness size: 60 in
Material: Faux Leather
Waterproof: Splashproof
Key Features: Velcro-adjustable, shiny bronze-gold colourway
What's a Dildo Harness?
Everyone knows what a dildo is and where it goes. Putting one inside yourself is easy enough, but if you want to get a partner involved and open up a world of new possibilities, you'll need to invest in a harness.
A dildo harness is a type of strap-on that is specifically designed to hold a dildo in place. The harness will often have a hole in the center that the dildo can be inserted into, and then straps that go around the body to keep everything in place. But some harnesses include an attached dildo.
There is a whole world of variety when it comes to harnesses and choosing your first can be tricky business. The following guidelines may make your search a bit easier.
Choosing The Best Dildo Harness
You should know what you're looking to get out of your dildo harness before making your purchase. For example:
How many people will be using this harness? Just you? This consideration will determine your sizing needs.
How often do you plan on pegging? Different types of harnesses require different kinds of maintenance and cleanup. Their durability also varies. This can influence which type of harness material you should buy.
What kind of dildos are you using? Dildo Harnesses aren't one size fits all. There are a wide array of options, and not every dildo fits every harness. So you'll have to do some research.
Each type of dildo harness has its own advantages. The 3-strap or "jock" style is adjustable to fit your waist and thighs, giving you greater customization and a better fit. The 2-strap or "g-string" style is also adjustable, but not as much as the 3-strap. The corset style is not as adjustable as either of the other two styles, but it does provide a more secure fit. But for the corset style you may need more specific sizing and measurements.
Harnesses are also available in a variety of materials, including cotton, leather, lace, latex, and nylon. Depending on the quality of the dildo harness and how well you care for it, harnesses can last for many years. Some people advise experimenting with a cheaper harness before committing to a more expensive one, because you may find that you don't like strap-on sex after all. So it can be best to experiment.
View All
Know The Different Types And Features
There are several different types of standard dildo harnesses. They include:
Harness with removable dildo: Using a separate harness and dildo provides for maximum flexibility. The harness straps generally include an O-ring that allows any dildo with a flat base to be attached. Buying a harness and dildo separately is considered the "pro" approach.
Unisex strap-on harness: These popular dildo harnesses are meant for both men and women. The harness has 4-way straps that fit around the waist and legs.
Vibrating strap-ons: This kind of strap-on has a motor inside the shaft which is operated with a controller.
Hollow strap-ons: Men who suffer from erectile dysfunction can take advantage of a hollow strap on. The core of the dildo is hollow which means you can easily insert your penis into it and simulate the motions of penetrative sex.
What Material to Choose?
As we mentioned previously, dildo harnesses come in a wide variety of materials.
Some folks swear by leather, because leather straps hold dildos more securely. Leather harnesses are also the sturdiest and of the highest quality. It's considered the most comfortable dildo harness material and many users comment on its pleasant odor. Leather is also unlikely to cause you any skin irritation or discomfort. With quality comes price, as leather harnesses are typically the most expensive. They also have the most complex cleanup procedures.
Nylon and fabric dildo harnesses can be good if you are confident in your ability to use a strap-on and have thrusting down to a tee. But keep in mind that they aren't nearly as sturdy as leather, which is the gold standard, especially if you are planning on getting repeated use out of your dildo harness. One advantage of nylons and fabrics is that they are very easy to wash.They can be thrown in the washing machine, but must be kept in a lingerie bag so that they don't get stuck in the machine.

Tips for Choosing The Best Harness Size
Finding the right size for your harness is important. It's a luxury toy that can provide endless fun, so you should ensure you have something that will work well for you. If you're willing to do some measurements with your partner, the process can be a whole lot easier. It is important to figure out the right size to avoid the harness being too tight or too loose.
To find the ideal size, first measure around your waist. Then, measure around the upper part of your thigh where the dildo harness will sit. Once you have these measurements, you can start to look for a strap-on harness that will fit you. Most strap-on harnesses are adjustable from around 15 inches up to about a 70-inch waist measurement allowance. Product listings will clearly list the harness sizing, so if you have your measurements you will be well prepared.
Leather strap-ons generally stretch a bit after several uses, so you may need to tighten the strap when required.
Dildos and Harnesses
As mentioned previously, some harnesses come with an attached dildo and others have something called an o-ring, a circular piece of material which allows you to attach the external dildo of your choosing.
Harnesses with built-in dildos tend to be cheaper, but are far less functional and sturdy if it's something you and your partner are serious about. It can be better to make the investment of a full-price harness and dildo, purchased separately, than waste your money on cheaper all-in-one units that won't last long. It also affords you the flexibility of choosing a more specific dildo.
Unfortunately, you still can't use any dildo you want.
Dildos come in many different shapes and sizes, and their bases (where the o-ring attachment occurs) can vary in size a great deal. If your dildo doesn't come with an o-ring of the correct size, try to find one that is ~1/4″ larger in diameter than the dildo itself. It should be good and tight so that the dildo won't wobble in the harness while you're playing with it. You want a firm grip to have maximum control.
Some people complain that the dildo they bought turned out to be smaller or bigger than their expectations. It's important to know what the receiving vagina and/or sphincter is capable of handling, and also what's preferred.
A good way to prepare for purchasing the right strap-on dildo is to measure yourself or your partner using another vibrator or dildo. Get aroused, and then place the dildo or vibrator into the appropriate hole. Place it in as far as it can go comfortably. Mark your dildo or vibrator from the outside. Once removed from the orifice use a tape measure to find the exact length from the tip of the dildo to the point you marked. This is your measurement.
Dildo material is also important. Silicone dildos are best and make up the majority of harness dildos for a few reasons: their flexibility prevents them from hurting your partner and they are widely available. Make sure to only use water based lube with silicone dildos.
You must know the size of the dildo before making your purchase, especially if it's not detachable. Sizes can range from 5 in all the way up to 10 in. And the circumference (or girth) can be anywhere from 4 in to 7 in. Everyone has different preferences for dildo size. For beginners, it's important to keep in mind that bigger is NOT always better!

Using a Dildo Harness Like a Pro
The key to using any sex toy is to have clear communication about it with your partner. Discuss exactly what you are looking for and what you are both comfortable with. You can also come up with a safe word that you can use so that your partner knows to stop if things get too intense.
Start off slowly, and don't rush it. Take time to get in the mood and loosen up; it's absolutely essential for anal penetration. Make sure to use plenty of lube to create a smooth experience. Find the position that suits you and your partner best. Strap-ons are great for a number of sex positions including doggystyle, spooning and on-top.
Keep in mind that extreme heat and humidity can damage the dildo harness. So, keep it in a nice pouch or in the original harness dildo box. Always clean the dildo before and after each use. They can spread infections if they aren't taken care of properly.