Vibrating Panties may sound odd, and they are definitely one of the most intriguing sex toys on the market.
Vibrating panties are ever popular for those who like the thrill of danger and the risk of public orgasms. They offer a thrill unlike other sex toys. They're discreet, yet wonderfully pleasurable at the same time. No-one will ever know just how much fun you're having.
The vibrating panty takes the sex toy onto an entirely different playing field… a very public one.
With remote controls that can be handed to a partner, and removable bullets vibrators that are so quiet they're barely a whisper, the vibrating panty is an erotic treat that every dare devil woman should try at least once.
If you like the thrill of the chase, that sensual teasing from a lover and highly erotic foreplay, then you my friend, have just found the holy grail of sex toys. You'll be having orgasms at dinner, the movies, a party, even the library… just remember not to scream.
Vibrating panties come in a variety of styles to suit your, or indeed your man's, taste. So you can turn him on, whilst be turned on to whole new levels.
There are even varieties you can wear whilst having sex. If your man has a thing for underwear then this is going to make him blow.
Believe me, if this kinky garment doesn't excite you then not much will.

How to choose vibrating panties to suit you
As with most sex toys there is every variation imaginable. You're probably thinking; how much variation can there be when it's discreet enough to be in a panty? Well, more than you think.
You can have full on panties with small built in vibrators, removable vibrators, external stimulators, internal stimulators, remote controlled panties, you name it and it's in a panty.
Confused? Not for much longer, because here's the 21 best vibrating panties list the world has been waiting for.

Best vibrating panties
In no particular order:
1. My Secret Screaming O Vibrating Panty Set
I've sifted through a lot of vibrating panties with different ideas for maintaining discretion. This one might take the cake when it comes down to 'best disguised remote control'.
It's a ring. A streamlined, black silicone ring- pretty much unremarkable in every way. It'll stretch to fit pretty much anyone's finger perfectly, which I think is just plain old smart. It continued to impress me, because it's not only the best hidden-in-plain-sight remote, it's also the most powerful.
Fifty feet is a whole lot of territory to range through- but this vibe will continue to respond from half a football field away. Wow.
The floral lace panty has generous side ties, so even the most zaftig (up to a 60" waist) can wear these cute panties comfortably. Red, pink, and white color options give you some variety in style- I think everyone would rock at least one of these colors!
The bullet (which tucks snugly into its own pocket) has some pleasing power behind it. Even if it's not the quietest or most unobtrusive design, it gets the job done with a certain admirable flair. Stock up on batteries, this might become a hobby of sorts.
2. Ohmibod Club Vibe 2.Oh!
With a name like Ohmibod Club Vibe 2.Oh! you can be sure of a good time.
Perhaps you've always wanted to have sex in a public place, but never had the nerve to do it? Then this black lacy thong is the way to go! You can have full-on orgasms or foreplay stimulation whilst ordering your drinks at the bar or visiting an elderly relative.
The Ohmibod Club Vibe 2.Oh! has a remote control that works up to 20 feet away for couples' fun. The vibrations are also keyed to music and the remote will also set off the vibrator when you or your partner speak into it. Imagine the filthy things you could say if you were talking directly to a clitoris!
There are five vibration speeds and patterns to suit your preference, and they are USB re-chargeable which is a real plus.
3. 10 Function Remote Control Vibrating Panty
This model has a remote control, ten strong vibration patterns, and a vibrating plug with pleasure nubs.
You get the picture – internal vibrations rather than a pocket at the front of the panties. There is a retrieval loop so you don't need to worry about it going for a wander.
The remote control works from 25 feet away, (we see you pacing across the room, nicely done!) so you can go out and about for public fun. The panties themselves are a stretchy, sexy black vinyl G string. Oh, and there's a free blindfold too.
4. Little Black Thong
If you love the classics, then these are the vibrating panties for you! Simple and sexy – they are the 'thinking' man/woman's choice of naughty knickers. The bullet has ten vibrating functions, pulsations and escalations, plus its waterproof and fully washable.
Some may say they need more stimulation than plain black underwear. What? More stimulation than constant orgasms? OK, as an extra these panties are remote-controlled from 19 feet away! Not enough? Try wearing them back to front! Grr!
5. Neon Vibrating Crotchless Panty & Pasties Set
These neon panties are sure to be the life of the party, especially with their secret vibrator, oh and they're crotchless! How does that work then? Well, the vibrator fits inside a small pocket at the front of the panties, leaving the crotch wide open.
The panties come with co-ordinating pasties, which is a nice touch. The colours are so bright you can virtually see them in the dark. It has a single speed vibe, which is waterproof should you want to go swimming but forgot your costume.
One of the best aspects of this vibrating panty is the price. It's a great value choice for beginners who don't want to spend a lot trying them out.
6. Luxurious Silicone Panty Pal Vibrator
Looking for a public thrill that's still discreet? I'm cautious about trying out anything that might make me act weird in public…but this one might be worth the odd looks (seriously, officer, I'm not day drunk! I just can't walk straight because of…reasons.).
It looks like a pretty purple playground slide- just designed for adult-rated playtime. Wheee!
I have to hand it to the pervy little genius who dreamed up this silky silicone miracle. It's almost wrong that something this small (only 1.3" around) has so much power. But like a real superhero, it rises to the occasion for a lot of responsibilities.
Need knee-shaking pressure on you clit? Here it comes to save the day! And being 5" long, the kind of power it can focus on your G-spot will leave you breathless. Even better, it uses a USB charger to power up, so no more batteries.
It doesn't come cheaply, but instead is built to withstand the most demanding of nymphos. If you're tired of upgrading or replacing your toys every few months, your search is over- this is the one you've always wanted and never knew existed (mental note: put on Christmas list).
7. Fixsation Vibrating Panty
These are one of the more expensive on our list, but hold on, don't just skip to the next, because these bad boys are rechargeable.
It is NOT fun running out of juice during a sex session, and running out of batteries in your vibrator comes a close second. These Fixsation Vibrating Panties go for two hours on a single charge.
It may be a stretch to call them panties – they are more like a suspender belt with the belts holding the vibe in place. Penetration is not hampered, which is always handy!
These are great for women who find it hard to climax during penetration, as the vibe gives an extra helping hand. There are 3 speeds, and it's thoughtfully quiet.
8. Blue Motion Nex 1 Bluetooth Panty Vibe
Here's something a bit different. An app remote-controlled vibrating panty!
Reviews are mixed – folk either love this or hate it. Intrigued eh? We don't blame you. To use the Blue Motion Nex 1 Bluetooth Panty Vibe you'll need to download the free Bluetooth app or the other $4.99 app for Wi-Fi thrills over the internet.
If you're in a long distance relationship this could keep your sex life going.
A great feature is that you can control vibration settings by waving your hand, or setting it to the beat of music. You can even record your own original pattern with the 'tap and record' function.
Haute couture vibrating panties compatible with Android and iPhone. Who'd have thought it!
9. Adrian Lastic Mr. Hook USB Rechargeable Extra Quiet Panty Vibrator
Someone out there is a huge fan of modern art- because this curved yet sinuous dingus wouldn't look out of place on a pedestal in a museum. It's so weirdly, fascinatingly pretty in a rich sensual purple silicone. Waterproof, too- so who knows what kind of art you'd get up to using one of these?
I'd suggest a bit of lube to get this one settled in place- it's designed to bracket your cllit and your G-spot at once- but I think it looks remarkably comfortable. You'd be able to wear this under your favorite jeans, too, as long as they're not skin-tight.
It comes with an easy to adjust harness to keep it steady no matter what you wear (or do) with it though. I think it's a nice filing size as a first course, being 3" around a its widest point and penetrating a teasingly perfect 2".
The USB charge on Mr. Hook is impressive. Even with 10 speed and patterns of vibration to explore, it'll keep chugging away for almost two straight hours. Super bonus: you can wear it during penetrative sex for that extra va-va-voom for the both of you!
10. Secrets Remote Control 5 Function Vibrating Lace Thong
Life is a game of give and take, where we sometimes have to make compromises. I'm not always a huge fan of compromises, it usually means that I have to give up on something I really want. Thankfully, with this panty, power isn't one of those things you have to give up.
The remote is easy enough to use and will quickly cycle through all 3 speeds and both patterns of vibration in the blink of an eye. With a remarkable range of almost 30 feet you can wander pretty far afield and still be completely under your lover's thumb. Most impressive!
The compromise here is twofold: it's a little bulky despite the snug panty pocket. And it can be loud, so it's not particularly discreet- but I still think the combination of style, power, and function make this a fantastic option for in-house play. Or maybe a rock concert.
It's sturdy enough in safe and easy-clean PVC, but I'd think twice about perching on a hard chair or wearing anything really snug.
It might run you a bit on batteries for both the bullet and the remote. It might be a bit noisy.
Overall, though, I think that this would be the magic bullet for someone looking for something a tad risque on a reasonable budget. And the sweet lacy thong is quality enough to make just about anyone look damn hot.
11. Remote Control 20 Function Vibrating Panties
Here's something to please the beast that lurks inside- silky leopard print panties with their own built-in growl! I don't know what it is about animal prints, they just feel that much more 'nasty good girl' to me. There's definitely a stiff dose of that in these.
Side ties can be a pain to get 'just so', but they also make sure that you get a perfect custom fit on these beauties. I like the option to adjust everything because, honestly, the last thing I want sometimes is a jackhammer on my clit.
Sometimes yes- but if you're anything like me, your mood can change like the weather. It's nice to have toys that accommodate my mood swings. Now.
The bullet can switch from a 4.25" long external stimulator to an insertable 2.5" for when you really need to switch on the fly. At 2.75" around, it's a nice thickness for your pussy to grab if you decide to take things into your own hands. Yes, ma'am!
The product details note that you need to take the batteries out of the remote and the bullet between sessions; this is a good plan. AAA batteries are easy enough to find just about anywhere, but the little watch batteries are more of a challenge.
I'm of the opinion that you should take care of your gear, especially when it does so many nice things for you (20 settings? This has choices like an ice cream shop!). It's a nice touch too, that the bullet is waterproof- just keep the remote dry.
Otherwise, I think that this is a piece that will both elegantly cover your ass and make your legs wobble.
12. Hot Date 10 Function Remote Control Vibrating Panties
There's a great balance of fashion and function in these panties. First of all, the battery-powered bullet has mad skillz- 3 speeds in 7 patterns. Whoa. It has a nice strong vibration, but isn't going to rattle your teeth- so keep that in mind when making your choice.
It is awesome if you're looking for an epic tease. It'll hold you just back from a full on orgasm. Whomever is holding the remote, beware. I'm not sure everyone could survive a ravenous, continuously teased woman. Especially if this was going on all night long.
A little care is needed with the parts here, as neither bullet nor remote are waterproof- so clean with some attention to detail.
It's easy enough to use (don't lose the remote, it doesn't work without them!), with a little black fob that could pass as your extra keychain. A single button will cycle through all the modes, all from a max range of 30 feet.
Kinda makes me wonder what he's doing all the way over there. He'd better not be checking the football scores again!
13. Tingle Me Panty Vibrator
This one really took me by surprise. It's such a cutesy little toy- not even 2" long- with a great concept behind it. The blasted thing is disposable.
That doesn't mean that you have to toss it after one adventure- but if you leave it at the club, or decide it's not your taste, it's no big deal. It's just so simple and foolproof in design, and so very easy to use. I think that it's a great introduction to the shady world of secret public stimulation.
I especially love the idea that it has a little adhesive patch that lets you attach it wherever you want in your own favorite panties.
This is perfect for the beginning of a series of very kinky adventures. If the Tingle Me can work you up with its gentle, consistent buzz, you might consider upgrading to some hardware with a little more durability and horsepower.
Thirty minutes of quiet run time is enough to tell you if this kind of fun is the outlet you've always wanted but never knew existed. Coupled with a neat on/off switch, this little pink wonder could be a total game changer in your sexual exploits.
At this price, it's a total bargain. I'd be tempted to send a box of these to the attendants at the next wedding I'm invited to. Who said that only the bride has fun at her wedding?
14. Wireless Venus Butterfly
Wireless Venus Butterfly panties are a great starting point if you are dipping a toe (or something a touch ruder) into the wonderful world of vibrating panties. They are great value and simple to use.
Perfect for girly girls who like princesses and kittens but have a naughty side.The vibrating bullet is kept in place with adjustable fabric straps that press the vibe directly against the clit.
It's a simple one speed vibrator, great for lazy girls, because there's nothing worse than needing to adjust the speed or position in a public place.
15. Love Rider Self Pleasurizer Boyshort
These cute boy short lace panties are the ultimate wolf in sheep's clothing. Upon first glance they look like 'nice girl' sexy and pretty panties, but hiding underneath is a 3 ¼ inches internal stimulator. This is bit different to other panties as they tend to concentrate on clit stimulation.
If you prefer internal buzzing to get you off, these are ones to buy. The stimulator even has a bulb tip to prevent it slipping out.
Imagine walking around for a while, buzzing away, and then sitting down firmly? How about that bumpy ride on the bus to work? Amazing. Great for single girls!
The Love Rider Self Pleasurizer Boyshorts come in pretty pink, purple or sexy black, and are hand-washable.
16. Entice Juliette Remote Control Panty Teaser
Don't need new underwear? Then try the Entice Juliette Remote Control Panty Teaser.
You simply slip it in your own underwear and use the remote to get you off. You can take the vibrator in hand and use it in the conventional way too if you prefer.
The Teaser's bullet is great because it charges via USB rather than the usual battery set up. There are 7 vibrating functions, which means you are all set for a great night, whether you take it out on the town, or sit down with the 50 Shades of Grey trilogy again.
17. We Vibe II Plus
The We Vibe II Plus comes with rave reviews no matter where you look at it. It's a super-luxury class ride- and worth every penny. It really is a sexy jack-of-all-trades…though it's the fact that it fits so ergonomically to your body that places it on my list.
Devilishly clever, it fits internally and externally- meaning that it grabs your clit and your G-Spot all in one go. Betcha can't walk straight when this baby fires up its engines.
It's got so many applications, not just as a silently rumbling panty marauder (the quiet thing does make the heist ever so much easier to pull off, though). Sturdy, silky, and U-shaped, it'll take over your bedroom once it pops out of your knickers.
I like good investments- and this one doesn't just stop at your goodies. Around nipples and cocks, slipped in your ass, tackling that horrid knot in your shoulders…well, maybe not that one.
I do know that this company has taken their customer feedback seriously. They've revamped their previous model and amped up the power. It's completely waterproof now (mmm, hot tub hijinks!). It even charges via USB.
They've really raised the bar on this toy- and it makes me wonder what next year's model will have in store for us all.
Right now though, the very sight of this thing has me squirming with Phantom Panty Syndrome. If it's as good on my skin as it is in my brain, I might have to schedule some vacation time. Sigh.
18. Vibrating Wireless Thong For Him
We like to make sure we include all our readers in our reviews. Vibrating panties are not just for women… here's a pair for him!
The Vibrating Wireless Thong For Him is made specifically for men. Vibrating panties for men are not as widespread as those for women, but we think they should be.
These are a remote controlled, stretchy black lycra thong to suit all, but the best bit is the moveable vibrator, so you can have vibration at the back or front door!
Have a power battle to see who can last the longest before coming – a bit like when you both ignore the washing up, to see who will give in first. This is much more fun though. Enjoy!
Wild cards
These last three toys are not proper vibrating panties… but with a little imagination they can easily become it:
19. We Vibe Tango
This bullet may be the gold standard for very tiny, very powerful, very quiet vibrators. Though not necessarily designed for panty play, it's just so…well, perfect…that I can imagine it rising to the occasion.
At 0.5"x 3", it's easily one of the most travel- friendly vibrators I've ever seen- and given your own snug set of favorite panties, I think this would take you for one hell of a ride. Opt for a flowy skirt using this one, just to be on the safe side.
It's constructed in harder plastic than most panty bullets, which means you probably want to use a dab of lube. The vibrations it produces are so much more intense than its silicone-covered competitors, so you don't want to get rubbed raw.
As a plus, that hard plastic makes it completely waterproof. Once you've had some public panty time, you can slip into a relaxing bubble bath and finish off the mayhem you started. I love versatile tools!
It'll be interesting finding out who lasts longer- you or the Tango. Only you know how horny you are. The Tango's USB charge lasts 2 solid hours. Game, set, match…
20. Embrace Pleasure Ring
What's good for the goose is good for the gander, so they say. I'm stepping out there to try and keep a little equality between the sexes- because the men in our lives need fun, too.
This is a slick, sleek cock ring that I'd have thought had originated in a BMW showroom, or from a Ducati design lab. It's just so damn smooth. It's practically black-tie-formal gear for your lover's shaft.
Oh, yeah. And it vibrates. Absolutely flat against his skin, comfortable, and totally incognito. It's fascinating how something so utterly silent can make your man go completely tight-lipped.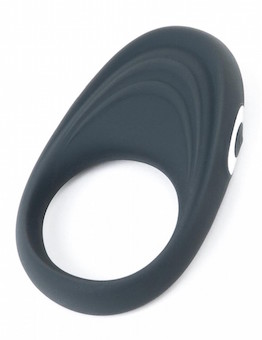 I could watch this for hours. I would make popcorn and settle in to binge watch this show. Screw Netflix. Luckily for me, the USB charge will last for 2 solid hours on high, or 3 on the low setting.
It features an oval opening measuring 1.5" by 3.75" around. Because it's made of heavenly soft, flexible silicone this ring will stretch helpfully to accommodate most men discreetly. They can wear their favorite Calvin Klein briefs overtop and no one will be the wiser.
No one but you, that is.
21. Life by Leaf
This is one bloody beautiful vibrator. It's so smooth and tongue-like, the image alone is almost enough to get me off. Sure, it's 'leaf-shaped'. Right. I'll just be over here with my dirty little mind, leering.
All objectification aside, this toy is nothing short of astonishing. It's environmentally friendly, powered by a rechargeable lithium battery.
It's practically molded to your lady parts, delivering delicious quivers to your clit, your labia, and everything else all at once. What made my jaw drop in particular was the 4 hour charge this little green tongue holds.
Damn.
Guess I have to rework my budget again. This is a professional-grade vibrator not for the faint of heart. Not necessarily designed as a panty pal, I think that it would fit the bill just fine with all its other virtues. It might be silent. I probably wouldn't be. And I think I can handle that.
How to use Vibrating Panties
Vibrating panties are really just a new twist on the common bullet, a hands free, public optional version. As the name suggests, they are just a pair of panties, but these panties have a secret pouch for a vibrator. The vibrators are usually small and quiet for discretion.
The panties are designed to be undetectable under your clothes. The idea is that you could be getting off whilst sat next to your boss at dinner and he'd never know unless you let on.
The remote control option makes the vibrating panty an exciting option for dinner date wear.
We know that different people are looking for different things from their sex toys. We've compiled a few of our favourites for those who need a little help in deciding which vibrating panties are best for them.

Multi-purpose panties – Pretty and pleasurable
Pretty may not be at the top of most people's agenda when looking for a sex toy, but these are panties and panties serve a purpose (other than to stash a secret vibrator).
Since the dawn of time panties have been designed to make men drool. The vibrating panty should be no different. For those who value looks when it comes to their panties we give you our top recommendations.
Vibrating panties for those who like to take a walk on the wild side
As with all sex toys you have the normal, run of the mill if that's what you like, and then you have the extreme. These are the sex toys that only the avid adventurer would want to try.
The toys that offer the promise of extreme orgasms that other toys simply cannot match. If you dare, these are our top recommendations for the wild child.
Vibrating panties for couples fun
Playing with toys by yourself is fun, but playing with others… well that's a whole other ball game, sometimes literally. Using toys with a partner or during sex brings some real excitement to your rendezvous. Here are our top recommendations for those who want to play with others.
Funky party panties
When it comes to panties, sometimes you just want to wear your party pants. There's nothing wrong with that, and why not have a real party while you're at it with some funky vibrating panties. Here are our top recommendations for the party animal.
Vibrating panties under $40
Sex toys are all about experimenting, and most people don't want to spend a fortune on a toy just to find out that it's not for them.
There is a big market for cheap sex toys, simply because they give you the opportunity to experiment and find what you like before splashing out on the all singing, all dancing deluxe version. Or perhaps you won't need to, a lot of the cheaper sex toys are just as good as the pricey ones.
So there you have it, our most recommended vibrating panties.