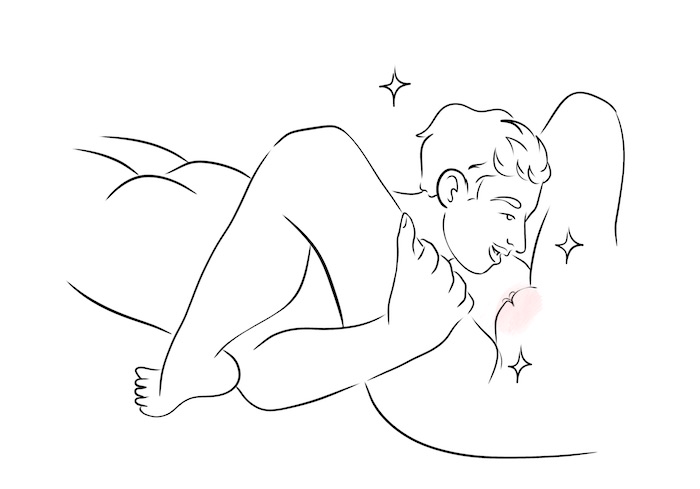 Cunnilingus, muff diving, licking the beaver…
Whether it's your first time going down on a woman or you've been eating pussy for years, there's never any harm in brushing up on the best and most efficient cunnilingus techniques that make women go crazy.
But what are the best ways to eat pussy? And are there any wrong ways to eat pussy?
Let's dive in and find out!
Part A: Anatomy
Part B: Be prepared
Part C: Cunnilingus
Bonus
Questions
How To Eat Pussy – A Step By Step Guide
Step 1: Get your face near a pussy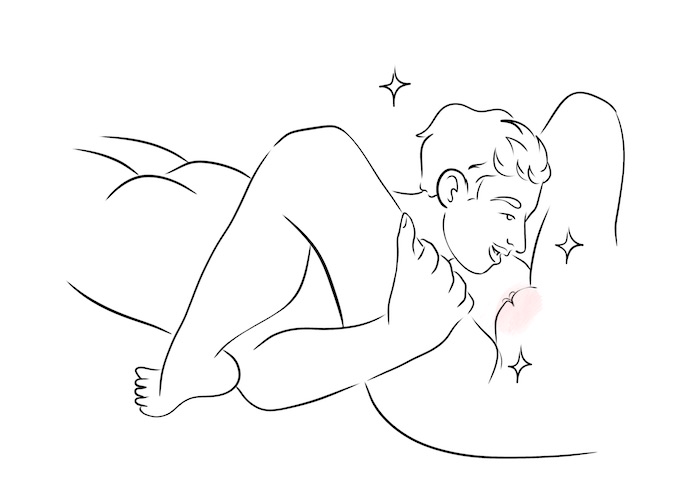 Before you can eat one out, you need to start by finding a girl and getting yourself in the right situation where pussy is on the menu.
If you already have a girl, great! Otherwise, you'll want to brush up on your flirting skills, chat with some women, and take one home with you.
Step 2: Get into position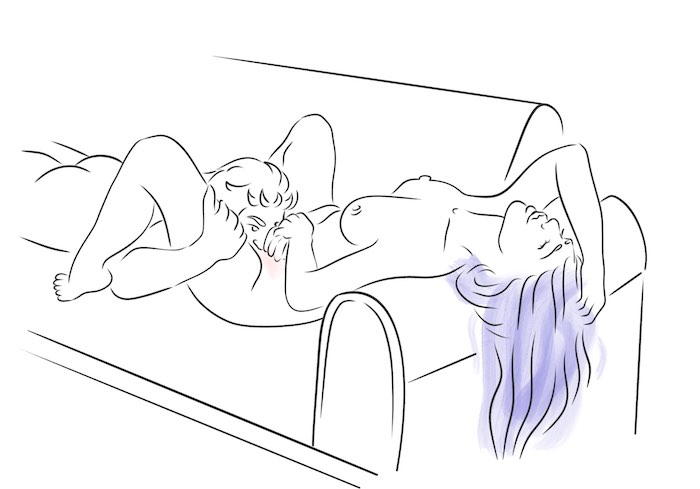 Make sure you're not uncomfortable otherwise you'll break your neck and we don't want you to die like that. I mean it could be a hell of a way to die… but yeah, not on our watch.
You can eat pussy from almost any position, but if it's your first time, missionary is your best bet. Have her laying on her back with her legs spread. You should be on your stomach or knees, and we think you know where your face should be.
We also list more positions you can use further below!
Step 3: Build anticipation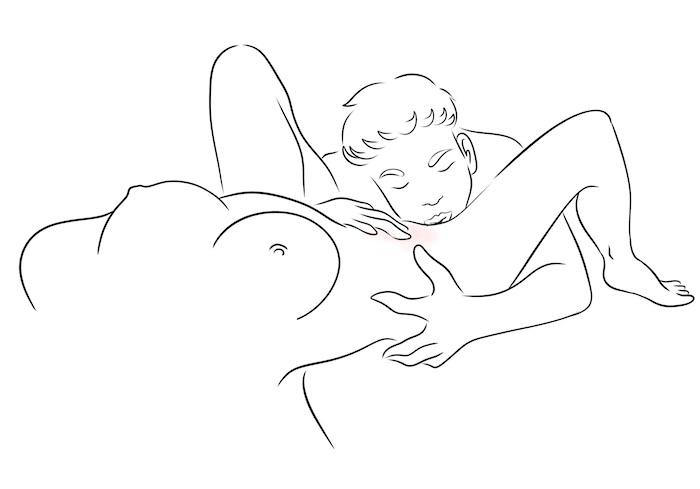 Before you open your mouth, start by gently kissing, teasing, and stroking around her magic pussy. Tease her before you please her.
How long have you been waiting for this moment?!! You don't want it to be over too quickly.
Remember the good old days of dreaming about it, and now it's happening. Ah, was it the law of attraction? Who cares!
Step 4: Start eating her out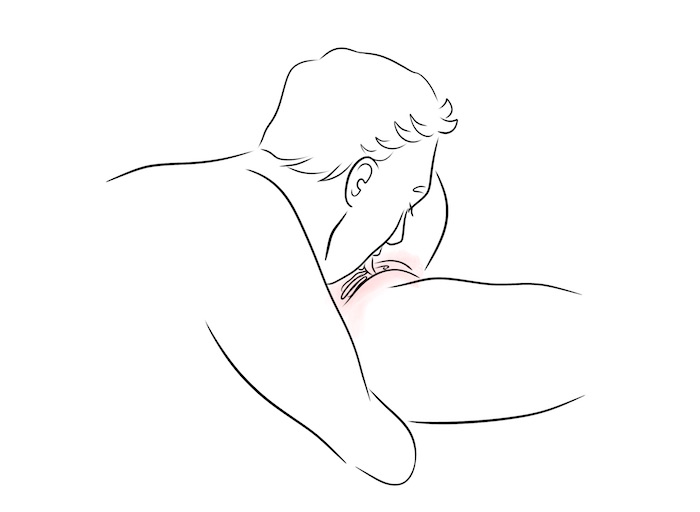 Open your mouth and stick your tongue out… There you go, not like a lizard, just be normal. Ok fine like this it's good…Start by gently licking around her labias (you know what are the labias? — those two flaps of skin on the side of the hole), and working your way, slowly, closer and closer to her clit.
Lick up and down, and side by side, but don't be like a robot, have fun, and enjoy it. Imagine you're licking your favorite cake!
Step 5: Let her know you love it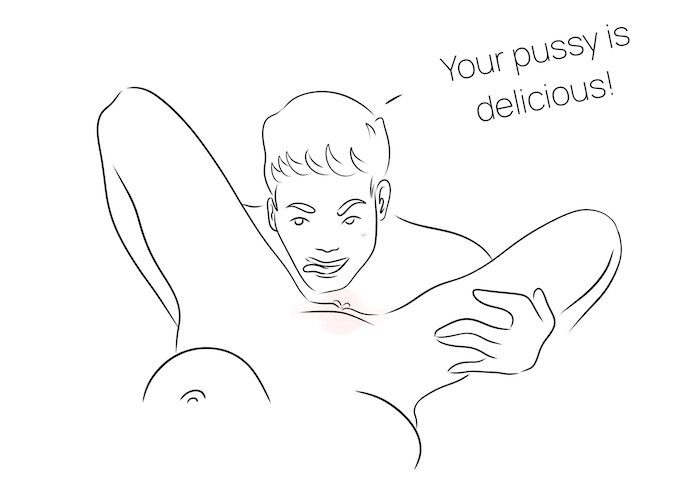 Make sounds, if you're enjoying it, make her hear it! You can moan or tell her directly that you love her pussy and the way it tastes!
Let her know you love it. She's going to appreciate it.
Step 6: Play around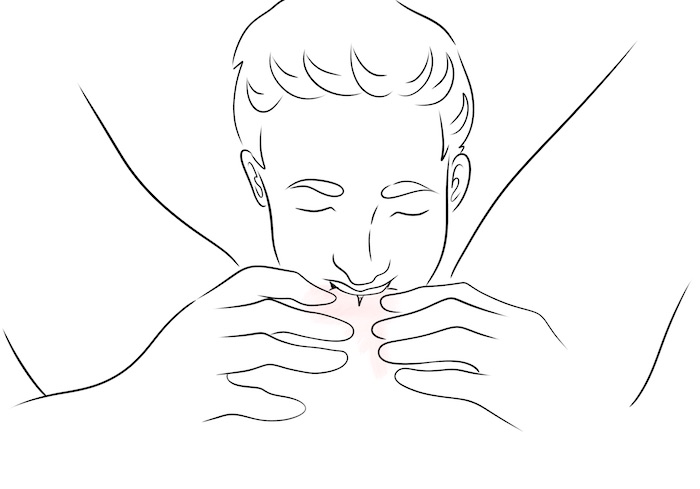 Remember those two labias things? Yes it's time to suck them a bit, also some gentle little bites are ok… You don't want to hurt her, but you do want to tease her and give her different sensations.
Sometimes you can even grab both of them and give a little bite at them together, like you're eating a pussy sandwich.
Step 7: Go for the clit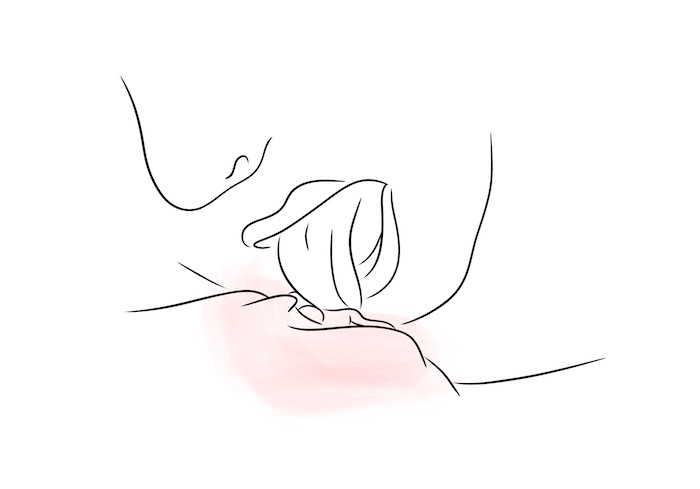 Get licking the clit (you don't know what's a clit? Ok seriously? How old are you bro??) Gently lick and suck clitoris in any way you see fit. Gentle flicks of the tongue, or lay your tongue flat on it and move your whole head side to side.
Either way, most of your attention should be on the clit. This is how you'll really get her going.
Step 8: Aim for the hole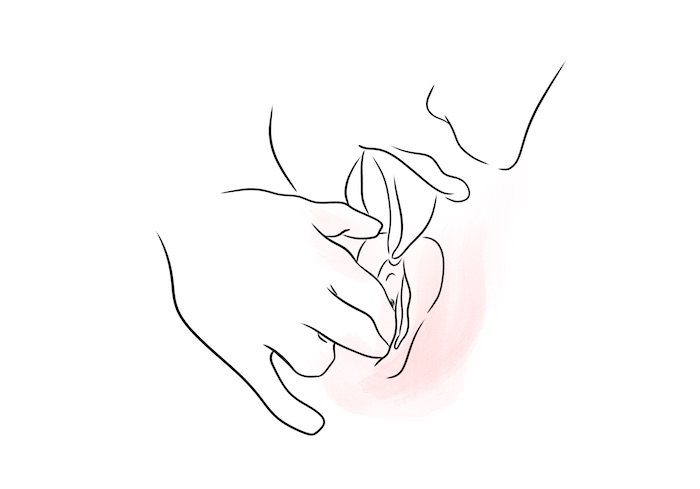 Ready to go for the hole??? Sure? Then move down and stick your tongue inside the hole. At this stage you can do various movements like thrusting, rotating, and much more (not really, other than thrusting and rotating, I mean with a tongue in a hole there's not much you can do? Or maybe I'm wrong?)
Yes, you can stick a finger inside her pussy while licking the clit.
Ok you're now becoming a master. Wow, I am so proud of you, you didn't even know what a labia was up to a few seconds ago.
Step 9: Find what works best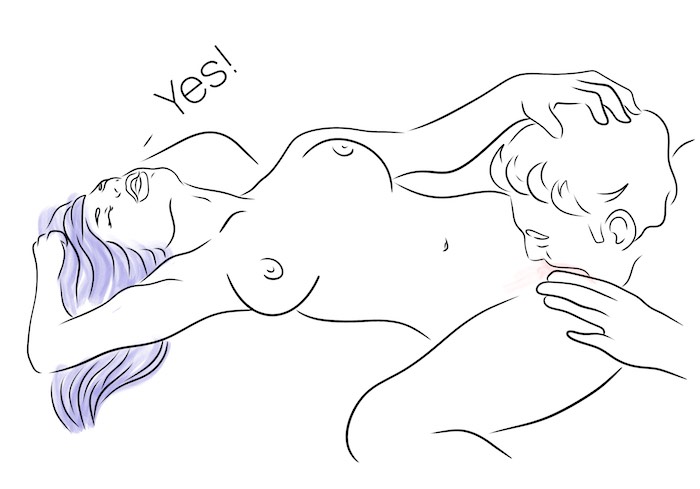 Keep trying different things and combinations of things to see what works best. Is she enjoying it? Keep going then!
If you're uncomfortable or not enjoying it yourself, then just stop and find a more comfortable way to do it.
If you're enjoying licking her pussy, she'll be more likely to enjoy it too. But if it's a chore for you, she won't be so turned on and she might think you're needy and care for her more than for yourself.
Step 10: The end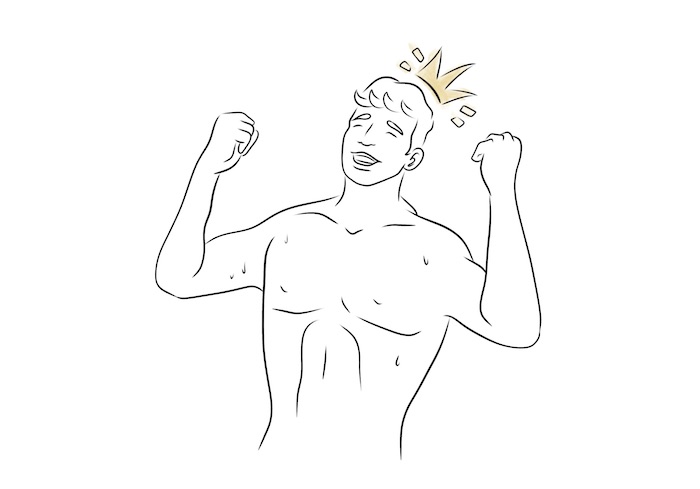 You ate a pussy! Wow! That's what I call a life worth living.
Eating Pussy Statistics
36% of women need clitoral stimulation to orgasm.
The clitoris has more than 8,000 sensitive nerve endings, making it the most sensitive part of the vagina.
37% of women are interested in anal stimulation, so it might be worth adding to your repertoire if she's into it.
48% of women need a partner's hand or mouth to climax.
74% of women say dirty talk can help get them off during oral.
The ABC of Pussy Eating
This pussy eating guide is divided in 3 parts for your easy consumption.
A = Anatomy
B = Bosition… ok it doesn't sound well, so let's say: Best positions for eating pussy.
C = Cunnilingus! By the way can we please find an easier word for this?
Anatomy of a Pussy
While you might think the clitoris is the most crucial part of the vagina, many other parts can be equally pleasurable when stimulated correctly.
So if you want to learn how to perform mind-shattering, leg-shaking, moan-inducing oral sex on your girl, you first need to know how her anatomy works.
The clitoris
Considering that only about 25% of women orgasm from vaginal penetration, you can easily see why the clitoris is one of the most critical parts of female anatomy, at least when it comes to pleasure.
The clitoris consists of roughly 8,000 nerve endings, making it the most sensitive part of the vagina.
When stimulated to climax, clitoral orgasms release a ton of oxytocin and other feel-good hormones into the female body.
The labia – Minora and majora
Also known as lips, the labia minora, and majora surround a woman's vulva. Every woman has both types of labia.
However, each woman has a different color, size, and shape of labia, which makes each set unique and beautiful in its own way.
The biological purpose of labia is to protect the urethra and vulva from irritation, infection, and dryness.
During arousal, a woman's inner and outer labia become engorged with blood, making them more sensitive to touch.
The vulva
Technically speaking, the vulva is the vaginal opening that leads to a woman's uterus.
Most women do not feel stimulation on the inside of their vagina past an inch or two.
Therefore, when it comes to eating pussy it's best to focus on more sensitive areas, like the clitoris or the g-spot, instead of trying to go deep.
The G-spot
As part of the clitoral network of nerve endings, the G-spot, or Grafenberg spot, is a soft, spongy area located about an inch or so inside the upper wall of the vagina.
The G-spot is the backside of the clitoris, connected by thousands of nerve endings, which is why it can feel so good when stimulated.
With enough G-spot stimulation, some women may even ejaculate, also known as squirting.
Research shows that anywhere between 10% to 54% of women squirt from G-spot stimulation.
Urethra
The urethra is a small opening below a woman's clitoris but above her vulva. Just like men, the urethral opening is where a woman expels urine from her bladder.
For pussy eating intents and purposes, the urethra is best left unstimulated. However,
Sounding is the sexual fetish act of inserting different sizes and shapes of metal rods into one's or one's partner's urethra.
Anus
Although not technically part of the vagina, the anus and skin surrounding the anus are packed with sensitive nerve endings.
Therefore, stimulating this area, alongside clitoral or vaginal stimulation, can prove to be a beneficial technique when eating pussy.
According to anal sex statistics, a third of women said they are interested in anal sex.
Licking, penetrating, or stimulating the anus with your tongue is known as analingus.
However, it's important to note that not all women enjoy anal play.
The perineum
The perineum is a small area located between the lower side of the vagina and the anus.
This is another area packed with sensitive nerve endings, which can be stimulated during cunnilingus.
Remember
The clitoris is the most important part because it's the most sensitive part of her pussy, spend most of your time here.
The labia are also very sensitive, especially when she's aroused. You should lick, suck, nibble, and tease her labia, especially before going at her clit.
Try inserting a finger and stimulating her G-spot while you suck, lick, and stimulate her clit and labia. No need to go too deep because most woman don't feel very much past the first inch or two
Best Position for Eating Pussy
Now that we've covered how the vagina works, the next step is to learn the different positions used when eating pussy.
Make sure she is comfortable
When it comes to pussy eating positions, there are virtually no limits, aside from your own and her physical capabilities, to what you can do.
However, one of the most important things to remember is that she must be comfortable if you want to maximize her pleasure.
It's also good to note that comfort goes beyond physical comfort. Lighting candles, playing soft, calming music, or even having a glass of wine can all help her relax, increase her comfort and maximize her pleasure.
Missionary
Just like you would do for regular sex, missionary for oral sex works by having her lie on her back, with her legs spread, and you with your face in between her legs.
As one of the most common sex positions, missionary is excellent for many reasons.
For starters, missionary provides you perfect access to her clit, as well as making it easy to massage and tease her stomach, labia, and inner thighs.
Remember that these regions are all loaded with sensitive nerve endings, perfect for teasing her into a frenzy before touching her clitoris or vulva.
Secondly, if you have her lift and hold her legs back, you'll be putting her G-spot in an easy-to-reach position, perfect for stimulation.
And also, missionary makes it easy to maintain direct eye contact, which releases oxytocin and makes cunnilingus that much sexier for you and her.
On the downside, unless her legs are up, missionary can make it a bit more challenging to finger or penetrate her vulva while you're down there.
So it can be a good idea to prop her butt up using a pillow or two.
This ensures that you have full access to not only her clit and G-spot but also her entire vulva and anus.
Doggy style – Eating pussy from behind
When it comes to sex, sometimes it's good to let your animal instincts run rampant. And that's why doggy style is the favorite position for many men and women, but not only for penetrative intercourse.
For eating pussy, doggy style works best if she is on her knees, with her butt up in the air and her face and torso down.
This position makes it easy for you to penetrate her vagina with your tongue.
Additionally, if she is OK with having you lick or tease her ass with your tongue, this position is excellent since it provides easy access to her anus.
However, it does make it slightly more challenging to access her clitoris.
One suggestion is to have her stimulate her clitoris with her hand or a vibrator while you lick, suck, and finger her pussy and ass.
Queening or face sitting
When performing oral sex, no doubt you want your girl to feel like a queen. So what better throne for her to sit on than your face?
Also known as "queening," face sitting is an excellent position for eating pussy because it gives her more control over the situation. She can control where you're licking, how hard you're licking, and the rhythm she needs to get off.
To perform this position, ideally, you'll want to be lying on your back with your face looking up.
Your girl can then straddle your face, facing forward (cowgirl style) or backward (reverse cowgirl). Depending on her mobility, she can either be on her knees or her feet, squatting over her face.
One alternative to this position is the classic 69 position.
For this, have her sit on your face in reverse cowgirl so that she can access your cock and balls (or pussy) to reciprocate the favor while she grinds on your face and feels like a queen.
Remember
Comfort is key! If she's not comfortable she won't be able to enjoy having you eat her pussy.
Missionary is a classic position, which ensures both comfort and prime access to her clit, labia, and vulva.
Doggy style can be fun for eating pussy, but it's best to save this position for special occasions or for girls that enjoy having their ass eaten.
Getting creative – The Kama Sutra and more
So far, we've listed some of the best and most common positions for eating pussy. However, these aren't all that different from the traditional positions for having sex.
If you want to spice things up, we suggest you buy a copy of the Kama Sutra or any other book highlighting exotic sex positions.
Whether you learn from a book or the internet, feel free to get creative and try new things.
Make sure she's comfortable when you go down on her, and you'll already have her halfway to pleasure town.
Cunnilingus – The Best Pussy Eatings Ideas & Techniques
Now it's time to dive into the best, most coveted techniques for eating pussy and making her cum.
48% of women say they need a partner's hand or mouth to help them orgasm.
So if you're reading this, you're doing all the women out there a massive favor by learning the best ways to help them climax.
Ask her what she likes
We could write volumes about the different techniques for performing cunnilingus on a woman.
But all of it amounts to nothing if she isn't comfortable or doesn't like what you're doing while you're down there.
Therefore, the best advice we can give you is to ask her what she likes. Do not ask her during sex, but before or after sex (much before, or much after).
During sex read her body language to see what works and what doesn't. Some girls like to talk during sex and tell you what they like, in which case it's ok.
But 99% of girls just want a man that knows what he wants, knows what to do and knows how to dominate her in bed with his masculine energy, presence and direction while she can let her feminine conscious mind go and let her body dissolve in pure bliss.
When you talk to your girl about oral sex she might be able to tell you precisely how much tongue she likes, whether or not she enjoys fingers, or if there's anything else you can do to help get her off.
On the other hand, she might genuinely not know what she likes. She might not have the experience or be too shy to tell you. If this is the case, take it as a sign that it's time to explore her body, see how she responds, and find out for yourself.
We promise that if you can learn what she likes and put it into action regularly, you'll be her favorite lover in no time.
Build anticipation
For men, it's usually easy to think about sex and be ready to go. But this isn't the case for most women.
That's why it's best to build anticipation and lead up to it before going down on her.
Getting her thinking about it before it even happens is one of the best ways to ensure that you and she have a good time while you're down there.
And the best part is that you can do this even before you get into the bedroom. You can build anticipation by flirting with her, sending her naughty text messages, or simply telling her what you want to do to her.
The more you can have her thinking about it, the more likely you'll succeed in getting her off.
Treat her clit with delicacy
As we've mentioned, the clitoris is packed with nerve-endings, making it one of the essential areas you'll want to focus on when eating her pussy.
However, it's important to note that some women's clitorises are more or less sensitive than others.
Therefore, the amount of tongue, pressure, or stimulation you'll need to get one woman off might differ drastically from what you'll need to do for another woman.
Again, this goes back to asking and learning what she likes in the first place.
No matter what, if you want to make her cum by eating her pussy, you'll want to spend much of your time stimulating her clit.
The Kivin method
Sometimes, maximizing pleasure can be as simple as switching up the way you approach your target.
Instead of approaching it head-on, the Kivin method suggests givers come at the vagina from the side, horizontally instead of vertically.
Ideally, you'll have her on her back with one of her legs to the side, so it's out of the way. This will allow you to approach her vulva sideways, providing side-to-side clitoral stimulation instead of the more traditional up-and-down stimulation.
Both up-and-down and side-to-side provide a similar type of stimulation.
However, sometimes all you need to do to help her get there is to switch things up a bit, and the Kivin method provides you with a way to do precisely that!
Who is Kivin – The Kivin method?
From our research, we can't find any information on who Kivin is or where the technique originated.
However, most sources state that the Kivin most likely gained traction via Reddit.
In our opinion, Kivin is likely a typo from the name Kevin, but we cannot confirm or deny Kevin's existence.
Kevin, if you're out there, we'd love to hear from you! And please, let us know if you have any other pro pussy eating techniques!
Pay attention to her whole body
You'll obviously want to focus on her clitoris and vulva when eating her out. But there's plenty more to a woman than her vagina.
So don't forget to pay attention to her mind and the rest of her body, especially when trying to build anticipation before going down on her. The more psychological and bodily sensations you can give her, the more likely she'll be able to orgasm.
The nape of the neck, ear lobes, breasts, nipples, stomach, and inner thighs are all areas loaded with sensitive nerve-ending.
These areas are perfect for teasing her and getting her in the mood before the main course.
Wetter is better
Just like with penetration, eating her out and fingering her will feel much better if she's wet.
Typically, if you've done your job in building anticipation and getting her in the mood, she should already be wet by the time you get down there.
However, some women have difficulty getting and staying wet, while others might not be in the mood just yet.
So if you can tell that she's not wet yet, make sure to lube her up first, especially before inserting anything into her vulva.
Spit works wonders while you're performing oral sex. But you can also use flavored lubricants or oils if you need help.
If you're using massage oil, ensure it's safe for internal use before applying it to her vagina.
Find your move, find your rhythm
When you first go down on her, we suggest you play around a bit and tease her inner thighs and labia before touching her clitoris or vulva.
But once you start eating her out, you see her reaction and find out what works best.
For some women, this might be purely clitoral stimulation. But others might prefer clitorial stimulation and being fingered simultaneously.
Either way, once you pinpoint what she likes, find your rhythm and stick with it.
Keep it consistent
Sometimes, it's fun to experiment with different techniques and sensations when going down on her.
But when it comes to helping her reach orgasm, your job is to keep things consistent until the train arrives, if you know what I mean.
Whether you're licking or rubbing her clitoris, fingering her g-spot, or doing anything else, if you can tell that it feels good for her, if she's moaning and enjoying what you're doing, don't stop!
She might even tell you not to stop. So don't stop!
Even if your hand or mouth is getting tired, we suggest you do your best to keep going until she cums.
She'll thank you in the end!
Read her reactions
So far, we've mentioned that you need to see her reaction to find out what she likes. But it would be best if you also listen for what she doesn't like.
Some women will clearly tell you if they don't like something. But others might be too shy to say anything. Once again, it's your job to watch how she reacts and act accordingly.
If she's moaning and thrusting, you're probably doing great. Keep it up!
But if she's completely quiet and motionless, you should reconsider your technique, or just do something else.
Remember, you have hands!
If your goal is to eat pussy, you'll want to use your mouth and tongue primarily. However, it doesn't hurt to throw in a finger or two.
You might try rubbing her clitoris while licking or sucking her breasts, nipples, or other erogenous zones before going down on her.
Or you might try inserting a finger or two into her vulva to spice things up a bit more, which brings us to the following technique.
G-spot stimulation
Named after German gynecologist Ernest Grafenberg, the G-spot is located about one to two inches inside the upper wall of the vagina.
When stimulated, the area may swell; with enough stimulation, some women may even ejaculate, often referred to as squirting.
Whether she squirts or not, stimulating this spot while licking or sucking on her clitoris is one technique that will surely drive her wild.
Between 10% and 54% of women say they squirt.
To this day, there's a great deal of controversy over whether the G-spot exists.
Use your mouth for more than licking
Even if you're going down on her, you can and should use your tongue for more than licking her clit or vulva.
For many women, hearing you say nice things about their bodies or naughty things about what you're doing or want to do will help them reach orgasm in no time.
74% of women say dirty talk is one of their favorite things to hear while between the sheets.
And don't forget that you should also kiss her lips and body. Your goal is to stimulate her vagina but remember: there are many other parts of her mind and body that you can stimulate to get her engines revving.
Don't be afraid of toys
For some women, your mouth and hands won't be enough. And that's OK! Nothing is shameful or wrong if your girl needs help from a vibrator or toy.
29% of women say they need a vibrator to orgasm.
Adding sex toys into the mix can help spice things up for her, and they can also help make your job of getting her off by eating her pussy that much easier.
Experiment
One of the best parts about having sex with another person is playing around and experimenting with what feels good.
Those with a bit more experience might already know what they like and won't need to experiment.
But for others, experimenting with oral sex can open the doors to a new world of unique sensations that you and her never even thought possible.
So remember to use these techniques, but remember to experiment too, and find out what works best when eating her out.
Remember
Don't only lick her clit. Tease and stimulate her labia, inner thighs, and entire pubic area for the best results, especially leading up to licking or sucking on her clit.
You should also focus on her entire body while you're eating her out. You can and should massage and feel her breasts, legs, stomach, buttocks, or anywhere else while you're eating her pussy.
And make sure she's wet! Spit works great, but teasing her and getting her aroused by building anticipation, using your fingers to stimulate her g-spot, talking dirty, or using a vibrator if needed is the best way to get her juices flowing.
Bonus:
Top Mistakes People Make When Eating Pussy
Now that we've covered all the best positions, ideas, and techniques, let's end with common mistakes people make when eating pussy.
Using the alphabet technique
We're not quite sure where this technique originated, but you're better off forgetting about it.
The alphabet technique suggests that you write out the alphabet with your tongue on her vagina, one letter at a time.
While doing this, you'll likely flick a few of the right spots. However, you're more likely to spend your time licking parts that don't feel great, frustrating her, and making your tongue sore, all for nothing.
Instead, we suggest you focus on licking her clit with gentle tongue flicks or applying the flat part of your tongue and moving it side-to-side and up and down.
These basic techniques are likely far more effective than teaching her vagina its ABCs.
Inconsistency
We've already covered the importance of finding your move, finding a good rhythm, and staying consistent.
And that's why we want to remind you that inconsistency is one of the most common mistakes you can make when eating pussy.
Often, a woman needs consistency to reach climax.
So when you're doing something right, and she's approaching orgasm, and right before she gets there, you stop, you're guaranteed to leave her feeling frustrated, and unsatisfied with the experience.
Read her reactions
Whether she's telling you to keep going, lick harder, stick a finger in, one of the biggest mistakes you can make while eating pussy is not reading her body language.
It's essential to listen to both verbal and non-verbal cues.
If she likes what you're doing, she should react by moaning, thrusting, and quivering. She might even tell you she likes your actions.
Alternately, if she isn't reacting, not moaning or telling you to stop, then stop, maybe she's too sensitive or doesn't like it.
Imitating porn
Of course, some women out there might want you to re-enact what you see in porn. So in some cases, imitating what you've seen in porn can be a good thing when it comes to eating pussy like a champ.
But before you start copying everything you see, it's essential to know that much of what happens in pornography is acting.
So even though the actress you're watching might look like she's enjoying it, it's just as likely that she's putting on a show, which is, after all, what pornography is.
Being too rough
As we've mentioned, the clitoris alone has more than 8,000 nerve endings, and the entire vagina has thousands more.
In other words, it's an extremely sensitive area of the female body.
So it's best to err on the side of caution when eating pussy and be more gentle than anything else, especially when first getting started.
We suggest starting slowly and being gentle, and only once you can tell she's feeling good and her body is reacting favorably should you ramp up the speed, frequency, and intensity of what you're doing.
Not asking what she likes
Every woman is different. And not only in the way they look, think, and feel. But they're also different in the way they like to have their pussies eaten.
So please do yourself a favor and ask her what she likes. After all, it's her that you're trying to please.
But don't ask her during sex, you can look very needy if you do so. Ask her after sex or before (to spice up the conversation). During sex her body language will tell you everything.
It's also good to think about the fact that a lot of people don't ask what their partners like or want.
Therefore, if you take the time to talk to her about going down on her, you'll not only be setting yourself up for pussy eating success, but you'll also be setting yourself apart from anybody else who has ever gone down on her.
Being upset if she doesn't orgasm
Between 10% and 15% of women say they've never climaxed.
Another 10% to 40% of women say they frequently report trouble trying to orgasm.
Therefore, it's essential to understand that no matter how hard you try, your girl might not be able to climax.
Sometimes a woman is just not in the right headspace, whether nervous, stressed, or anxious, and won't get there.
And that's OK, as long as you've done everything possible to try and help.
What's not OK is getting mad or upset if you can't seem to get her off. Not only will you be upset for nothing, but you'll also make her upset, which can cause future intimacy problems regarding oral sex.
Instead, it's best to think of going down on her as a way to please her. Whether she has an orgasm or not, you should enjoy giving pleasure to your partner.
This way, even if she doesn't climax, as long as you've followed our list of the best tips and techniques for eating pussy, you and her are sure to have had a good time!
Questions
How can I practice eating pussy?
There's really no good way to practice eating pussy other than by doing it. However, by learning about the vagina and how it works, you can gain a better idea on how you can eat pussy and pleasure a woman to the best of your abilities. You can also watch videos (ideally, not porn) on YouTube, and talk to women about what they like.
What are the benefits of eating pussy?
For starters, most men are turned on by eating pussy. But the biggest benefit to eating pussy is that you can arouse your girl with this type of foreplay, which can lead to better sex and better orgasms for her.
Why do people eat pussy?
Generally, eating pussy is part of foreplay, leading up to sex. Therefore, most people eat pussy as a way to get the girl aroused, wet, and ready for penetration. It's also true that many woman can't or don't orgasm from penetration. So eating her pussy and stimulating her clit can be an effective tool for helping her climax.
Why is performing cunnilingus pleasurable to the giver?
There's not really any physical pleasure that comes from performing cunnilingus. In fact, it can sometimes be physically uncomfortable to have your face covered in pussy juice and your body contorted in the correct position for eating. However, most men (or women) enjoy eating pussy because it gives pleasure to their partner, which is often just as satisfying as any physical pleasure.
References