Listen, lovemaking should never be scary.
…except during the most wonderful time of the year. No, not Christmas. Spooky Season!
Halloween is the only time of the year when you've got free reign to not only dress up as your wildest, scariest, most messed up fantasies, but also have some low-key scary intercourse.
No one's knocking good ol' missionary, but take a chance this Halloween and let yourself be woo-ed, spooked, and scared straight with one of these 10 Halloween-themed sex positions.
The (cock) Ring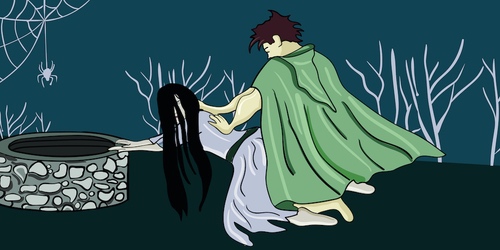 Cast: Samara, Frodo
Position: Doggystyle
Scary level: 3
Why this is Halloween-y: First, we brought you the girl from the ring. Now, get ready for the girl with the cock ring, coming to a bedroom near you! Has your sweetie ever secretly wanted to get intimate with a super creepy girl who's trying to murder him in painful ways? What about if she has…the Ring? No, not Sauron's ring, a cock ring.
How you do it: Well, here's his chance. Sweep him off his feet with your scarily realistic impression of Samara while he takes you from behind so he doesn't have to look at the hideous mask you have on.
You just have get on your knees, spread your legs a bit for better access, and either support yourself on your arms or hold onto something – the bed, the wall, maybe even a railing. The cock ring he's wearing should add a pleasurable buzz to both your experiences for a night you will never forget.
Float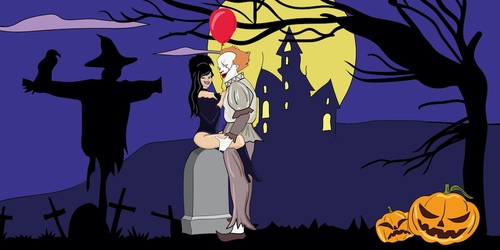 Cast: Pennywise, Elvira
Position: Sitting down
Scary level: 4
Why this is Halloween-y: A lot of us have always wanted to do it in a cemetery on Halloween. Well, don't do it, because it's illegal, but we can always fantasize, and even roleplay. You know…as Pennywise and Elvira. For many women, this could very well be the ultimate scare.
How you do it: We're proposing a simple enough position – she's sitting down, and he's standing up. Just sit down and spread your knees slightly. He's standing up, facing you, and hopefully your nether regions are perfectly lined up, making penetration easier. It' like a tight embrace, and you get to look into each other's eyes.
Super intimate and romantic. But what if you're perched up on a (fake) grave stone? And what if you're having intercourse with Pennywise the clown? Doing it in an imaginary cemetery is scary enough, but if you add a stunt into the mix and a psychotic clown, this position might just have you saying YIKES.
Wonder Woman
Cast: Wonder Woman, bad guy
Position: cowgirl
Scary level: 2
Why this is Halloween-y: Everyone wants to feel bad from time to time, especially on Halloween. If they tell you they're not looking for Wonder Woman, they're lying.
Every guy's secret dream is that a strong, sexy lady with a golden lasso will then punish him and bring him to orgasm justice by having her sexy way with him. There is no better occasion than Halloween.
How you do it: Lean fully into it, and take control: have your partner lay on the bed naked and tie him up with your trusty golden lasso. Blindfold him as well for maximum effect. Now you can tease him for as long as you want by touching him every so slightly, increasingly close to his danger zone.
10 minutes in, he'll be writhing in his golden restraint, begging you to offer him relief – which you can do either with your hands or mouth or you can sit on top of him and ride out this sweet mission to the end. Don't you feel better when you've saved the day?
First Contact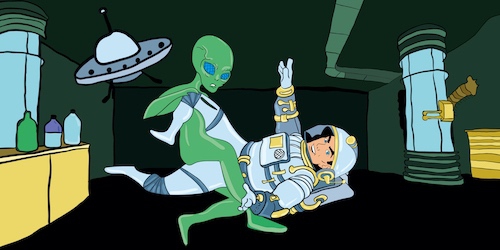 Cast: Alien, astronaut
Position: Scissoring
Scary level: 5
Why this is Halloween-y: Stories of getting male impregnated by an alien are a bit of an urban legend. Not sure anyone can imagine a scarier, weirder, or more WTF scenario.
There are a million jokes to make here about first contact and 3rd degree meetings, but we'll let you come up with the nightmare fuel on your own. If there are worse things than alien scissoring.
How you do it: Despite what that image might suggest, the limb entanglement isn't quite that complicated. You have one person on their knees, with the other person laying on the bed (or on the ground of a sexy alien laboratory, apparently), legs spread, with one leg up and the other one underneath the bottom of the other alien err, partner.
The scissor-er can go to town and control the speed to show you a truly satisfying time. Enjoy your gross alien babies.
Edward Dildohands
Cast: Edward Dildohands
Position: Dildo penetration from behind
Scary level: 2
Why this is Halloween-y: Everyone here has surely seen Edward Scissorhands – if you're too young to have seen that, then you're probably too young to read this. Minors to the left.
Well, think back to all those fantasies of Johnny Depp ravishing you, but replace all those scissors with dildos. Picture this – the guy or girl you've forced asked nicely to dress up as Johnny Depp, but they've got like, three dildos strapped to their hands. Imagine the possibilities.
How you do it: Because it would be a shame to let multiple perfectly good dildos go to waste (don't feel inadequate if you don't have the enhanced prosthetics for this, one in each hand should be quite enough), the best position is something that gives them access to… as many places they can stimulate as possible.
Put those dildos to good use. Have Edward kneel behind you and place yourself on your knees in front of him. Spread your legs for ideal access to your pleasure zones and enjoy the satisfying abomination you've both created this Halloween.
Burn the Witch
Cast: Witch, Satan
Position: Cunnilingus standing up
Scary level: 3
Why this is Halloween-y: If Salem burned women at the stake for doing math, just IMAGINE what they'd do to a woman if she committed the sin of experiencing pleasure during intercourse. Cunnilingus would have probably been the ultimate puritan horror, which is exactly why you should do it this Halloween.
How you do it: Don a witch's hat for this special sinful occasion, and make sure you're standing up. If you want to take it to the next level, have your partner tie you up to a bedpost – we're going for accuracy, here.
Make sure to leave your crotch area free for easy access. Have your partner dress up as the devil – the only one who would do oral on a woman in Salem. Surely the witch is in cahoots with Satan himself, so we're going to have him service you, on his knees.
Prop your leg up on the devil's shoulder for extra balance and to give him closer access to where all the action is. Rest assured that puritans are rolling in their graves as we speak.
Play Dead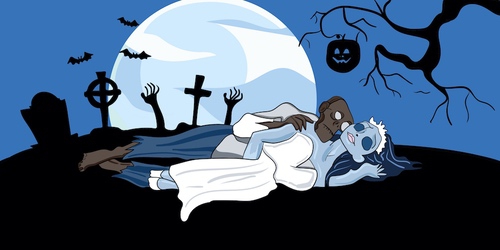 Cast: Corpse bride, zombie
Position: Spooning
Scary level: 1
Why this is Halloween-y: This is one of the more romantic Halloween positions – hey, hideous monsters need love, too! There's nothing dangerous about this, except for the risk of having a limb decompose or lose teeth during your passionate tumbles. All zombies have had that happen at one point or another.
How you do it: Truly a position for those who seek comfort, all you have to do is lay on your side. Yep, both of you. The big spoon can penetrate the little spoon. If you're the little spoon, you can put a leg behind you to give better access, or bring your knees up to your chest.
It's also a wonderful, intimate position because it allows for some neck nuzzling and other caresses. Halloween is truly the most romantic of holidays.
Sexy Squad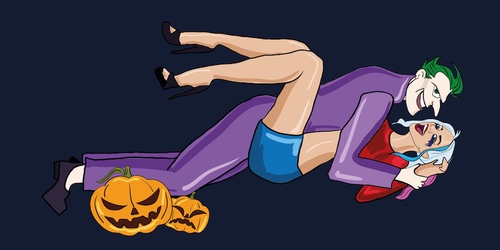 Cast: Joker, Harley Quinn
Position: Modified missionary
Scary level: 2
Why this is Halloween-y: At first glance, there's nothing scary about this. It's just missionary. Well, if you think the Joker and Harley Quinn are harmless, I guess… what also adds another layer to this is that she can have her head hanging off the edge of the bed.
You'll feel a rush of excitement and light-headedness when all the blood rushes into your head. No baseball bats are utilized in the making of this position, we promise.
How you do it: It's pretty straight-forward – she's lying on her back. Her shoulders should be lined up with the edge of the bed, and her head is hanging off the edge.
He's on top, holding her arms to her sides. She can wrap her legs around him for extra grip, and to make sure that penetration is deep. It's not a crazy stunt, but being face to face to that Joker makeup is enough to make you scream.
Bite Me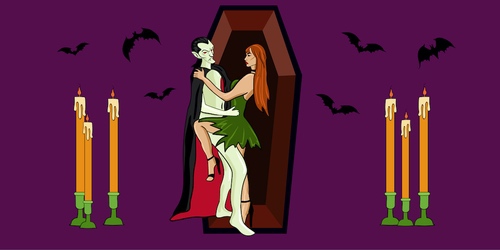 Cast: Dracula, victim
Position: Standing up
Scary level: 4
Why this is Halloween-y: We know what you think, this is scary because Dracula is going to bite you and transform you into a vampire. Not that sleeping with a vampire is Not Scary (a real vampire, not one of the Twilight sparkly ones), but that's not what makes this terrifying.
What's more scream-worthy is doing it standing up and losing your balance. You end up toppling over together, knocking down your romantic candles, and probably setting the curtains on fire. You're welcome.
How you do it: Letting you know now that both of you need to be pretty fit to do this. You need to be able to stand on one leg and keep your other leg around his waist and not lose your balance or get tired. He needs to be able to hold you up while thrusting. Godspeed, you crazy kids.
Voulez-vous Coucher Avec Moi, Ce Soir?
Cast: French maids
Position: 69
Scary level: 1
Why this is Halloween-y: There's nothing scary about French maids – what are they gonna do, make your house spotless? But we've got to have something for the risk-averse, and the low-key. This doesn't take effort or commitment – just shower, don a sexy maid outfit, and bring your appetite.
How you do it: This position is probably the most comfortable one – one of you is literally lying on the bed (or floor, or a table, if you want to get wild). The other one positions themselves on top of you – but with their knees on either side of your head and with their head towards your crotch. From here, the activity should be pretty obvious…bon appetit!
There you have it, 10 halloween sex positions to try this fall (or this spring depending on where you live). Some are scary, some a bit silly, but all of them totally unnecessary. Enjoy!