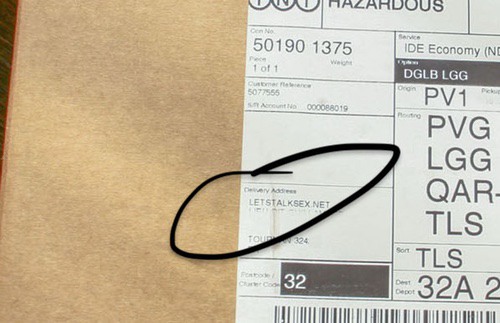 When I heard I was going to be reviewing some Lelo toys, the Lelo Sona 2 Cruise was the one I most hoped would show up on my doorstep.
The use of sonic technology to stimulate the clitoris had me tingling in anticipation. Like any self-respecting woman with a sonic toothbrush, I've felt those deep sensations in my mouth and wondered what else they might be capable of. I'm here to tell you the answer: straight-up magic.
What is the LELO Sona 2 Cruise?
The Sona 2 Cruise is a clitoral vibrator that uses sonic pulses to stimulate the entire clit–not just the visible bit, which is basically just the tip of an orgasmic iceberg.
LELO explains this all in a cute video, but in a nutshell: most vibrators are just attacking your love nub superficially with the vibes from an electric motor. This feels totally fantastic, but doesn't work for everyone and results in a fairly shallow orgasm. Sonic pulses transmit stimulation to the entire, deep clitoris, delivering orgasms on an entirely different level.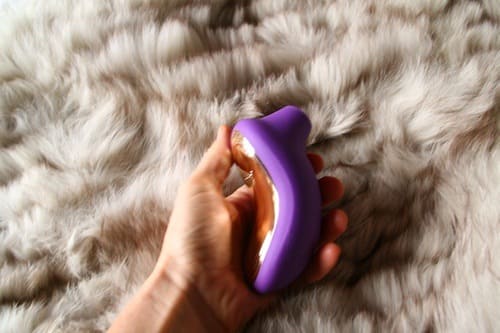 Lelo Sona Delivery on the Down-Low
There's nothing like having a mailman drop off your sex toy right in the middle of lunch with a friend. I'm not ashamed, but I'm pretty sure my 80-year-old neighbor might be shocked if she knew what was in the box. Luckily, the package was utterly discrete, and there was no way anyone could have guessed what was inside.
That might have been the longest lunch in history, waiting for our company to leave so I could check out the goods. But eventually, the moment of truth arrived, and I was able to unwrap my new best friend.
Move over, Apple, there's a new design boss in town! The presentation of this toybox is incredibly classy, making it the perfect present.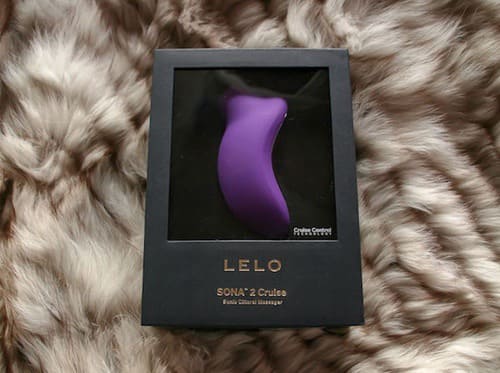 The packaging is just gorgeous: a matte black box with a viewing window and a perfect little compartment inside with the instructions and other sundry items.
Unwrapping The Lelo Sona Cruise 2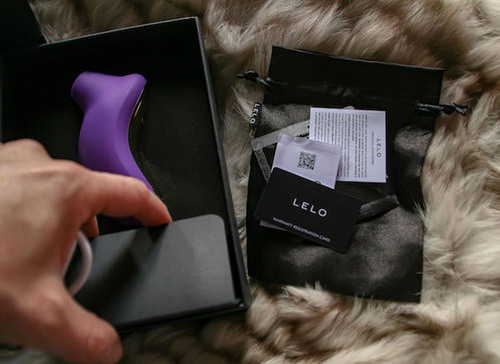 The Unit
I found the purple silicone construction of the Sona to be silky-smooth and luxuriously soft. It's shaped a bit like a Bluetooth computer mouse, with an exaggerated arch and a funny little open "mouth" on the convex side.
Although the Sona 2 boasts solid, silicone construction, the concave side is a shiny, mirror-finished bit of chrome that you can see your reflection in. It doesn't seem to serve any purpose but does give it a very sleek, space-age feel.
The Controls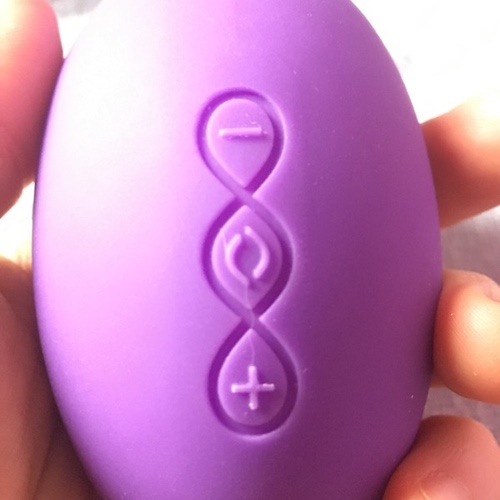 The control buttons are subtle and simple. The + button turns the unit on, and the center button will run through the twelve settings. Use the + and – buttons to increase and decrease the intensity. To go back to constant sonic vibration, just turn it off by holding down the center button and then turning it back on with the center or + button.
It takes a minute to get familiar with the controls, but once you do, it is quite intuitive. The Sona 2 feels like a toy designed by women for women, which is incredibly refreshing.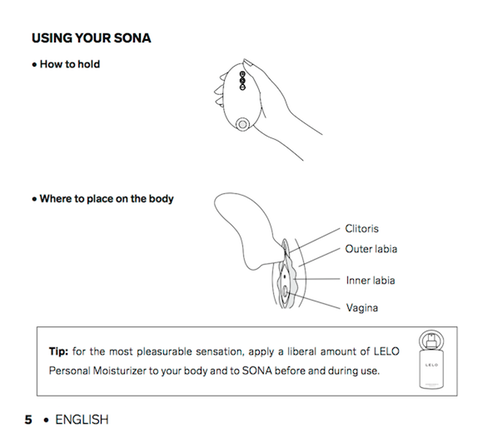 Cruise Control
This is the only thing that separates the Cruise from the regular Sona, and it is a genius feature. The unit senses any slowing of the motor due to pressure (i.e., grinding this thing into your clit to get off), and it boosts the motor to keep up the intensity. It's like a turbo for your pussy. Whoever came up with this has felt the pain of a vibrator that just can't keep up, and I salute them for coming up with this solution.
Extras
Neatly tucked into the foldaway compartment of the box (with ever-so-subtle alligator print texture) is a packet of Lelo lube, a black satin bag for storage, the USB charging cable, and a card for the warranty registration. Normally, I might blow off a warranty, but after using this toy, I decided it would be a tragedy if something happened to it.
The Specs
As I mentioned, the unit is about the size of your standard wireless computer mouse. It easily fits in the palm of the hand and measures 99 x 87 x 56 mm. It weighs 116 grams, lighter than an old iPhone. It takes a couple of hours to charge, and each charge will give you up to an hour of use. There is no way you could use this thing for anywhere near that long.
There is a little LED light that lights up the buttons; only when you are pressing a button, I guess to let you know that the button is working.
The charging port at the bottom of the unit initially fooled me into thinking it was not waterproof, which would be a massive strike against the Sona 2, but in fact, it is waterproof up to a meter. The port is easy to see, and the charger plugs into any USB port, which is really convenient.
Getting Down to Business with Lelo Sona
What you really want to know about is what it's like to use the Sona 2, so here we go.
First, because this is a silicone toy, you want to use a water-based lube. Don't fuck this up with a silicone-based lube because you will ruin the surface of your toy, and it will be weird and sticky forevermore. The first time I used it, I skipped the lube, and it was still fantastic. When I used lube the next time, it was mind-blowing.
Turning the Sona 2 on for the first time, I was surprised by how loud it was. Not like wake-the-neighbors loud, but loud enough that it isn't discrete. Someone in the hallway might think you are…brushing your teeth in the bedroom. The loudness varies a lot by setting (more on this later).
The instructions that come with the Sona are pretty minimal, but if you go online, there are excellent instructions you can check out. It is not a complicated toy, but the instructions are helpful for anyone who looks at this toy and can't figure it out.
Using the Sona 2
Having used it with and without, I recommend starting by spreading a generous amount of lube around your clit before you turn the Sona on. The lube will create a crazy-good suction-like sensation around the edges of the silicone mouth.
Start slow, like on the lowest setting possible. Move the mouth around your junk, just letting the sonic waves tease your love button. Once you feel ready, place the entire mouth around your clit and let the Sona work its magic. One word of caution: you may want to grab a towel before you start because a lot of ladies report ejaculating when they cum with the Sona.
The Settings
I'll be honest, the settings vary a lot, and most of them didn't do much for me at first. Some of them pulse rapidly; others have more complex pulse patterns that are harder to predict. The highest setting is crazy because it is so loud and so intense. It actually sounds like it is playing different musical baselines, and it was too intense for my clit to handle. What's more, it gives you a feel for what this thing is capable of and makes you wonder why the highest continuous setting is so much less intense than the peak pulse.
My pussy was no match for the Sona, and the first time I used it, I was caught off-guard. It made me cum HARD in less than 3 minutes. I realized that the settings are handy for edging up to an orgasm and then playing around and seeing how many more times I can cum in a short period of time.
This is radically different from any other vibrator I've ever used–typically, I get off, and that's that. With the Sona, I can really extend a session and cum again and again.
My favorite place to get off is the bathtub, so you can imagine my delight upon realizing that the Sona is fully waterproof. Using the Sona in the tub is lovely, but it seemed somehow less intense. In fact, I had a harder time by far-reaching climax underwater. Also, it is loud enough that if anyone is home, they'll know that something is going on in there if they walk by the bathroom door.
Clean Up
Thanks to the waterproof silicone of the Sona 2, clean up is a breeze. You can spray it with LELO toy cleaner and rinse it, or you can wash the entire unit with warm water and antibacterial soap. You should never use alcohol or any type of solvent to clean your toy. Once it's clean, pat-dry it with a towel or lint-free cloth. The only annoying part of the cleanup is the mouth, which is quite deep and difficult to dry. I just used a cotton swab to absorb the water that collected in there.
Sona 2 Cruise Pros
+ The best toy for a quickie, maybe ever
No toy has ever gotten me off faster, ever.
+ Compact
The Sona is sleek, minimal, and can be tucked away effortlessly.
+ Great Design
This is the most user-friendly toy, with extremely intuitive controls.
+ Subtle
If you left the Sona on your bedside table, anyone who saw it would think it was some kind of high-tech mouse.
+ Battery life
The battery lasts forever, and because it is rechargeable, you never have to worry about swapping out new bulky batteries. This also keeps the unit lightweight.
+ Quality
This is a high-end toy that is built to last. And the warranty ensures that if anything goes wrong in the first year, you'll get a replacement.
+ Multiple O's
Women who have trouble getting off with regular vibrators will probably find that the Sona can make them cum more than once. That's a game-changer.
+ Cruise Control
It doesn't seem like a big thing until you use it. That sustained intensity is delicious and really gets the job done.
+ External-use only
For women who are prone to infections, this is a big bonus because they can get off without inserting anything into their vagina.
Sona 2 Cruise Cons
+ Noise level
It really is a louder toy than I'm used to, which means that you'll want to have a little privacy if you're using it with other people in the house.
+ Weaker in the water
The intensity of the pulses seems to be dissipated in a bathtub, so it takes a lot more effort to work up to a killer climax.
+ Highest settings are excessive
I wish that the continuous setting went a little higher and that the most intense variable setting was a little less intense. My clit can't handle the Sona at peak pulse, but maybe someone else's can.
+ Cleaning
The mouth is a little tricky to dry off after cleaning. This is a minor complaint, but one worth making because I worry about bacteria and gross stuff festering in a dark, moist hole.
+ External-use only
If you really love penetration, then you might feel like something is lacking with the Sona 2. I personally didn't, but some women like to feel "full."
+ Jealous partner S
eriously, you might not want to tell your partner how awesome the orgasms the Sona gives you are. Then again, it might inspire them to up their game.
Lelo Sona 2, Conclusions
The Sona 2 Cruise is my new go-to orgasm machine. It's fast, effective, and intense. I can easily overlook the fact that it's a little loud because what it does is so exceptional. I find it challenging to get off quickly with regular vibrators, and this makes it so easy that I have to hold back to make it last longer.
Bonus points – When my toddler found it sitting on my bedstand (I left it out to dry after washing), she picked it up and put it to her ear like a telephone and said, "Hello? Hello?" The mirrored surface kept her occupied for almost half an hour. I know it's not that kind of toy, but it kept her busy while mom tidied the house, which was awesome.
If I could only have one personal toy, this is the one. I didn't even know what I was missing, but for intense clitoral stimulation, it doesn't get any better than the LELO Sona 2 Cruise. Sonic waves: not just for brushing your teeth anymore.